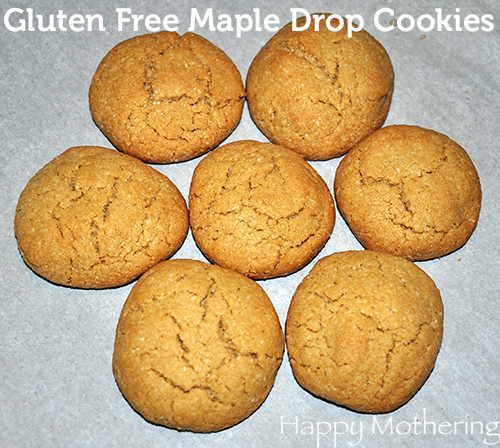 I have been having a blast learning to bake with gluten free ingredients. It has been an interesting learning process discovering what works and what does not work with gluten free baking when you also cannot use dairy or eggs.
For my annual Christmas baking marathon, I had three new gluten free recipes come out great. This cookie recipe was inspired by a gluten free sugar cookie recipe that I found here. I modified it to meet our tastes and I was very happy that they turned out great on my first try! Even my husband liked them.
I have been trying to cut back on white sugar, so I also love that this recipe doesn't have any processed sugar in it but they are still quite sweet. If you don't like maple syrup, you can probably replace that with honey, but I haven't tried it yet.
Gluten Free, Vegan Maple Drop Cookie Recipe
Ingredients:
¾ cup fresh ground brown rice flour
¾ cup almond flour
¼ cup virgin coconut oil, melted
¼ cup grade B maple syrup
½ teaspoon baking soda
¼ teaspoon sea salt
Directions:
Pre-heat your oven to 350° F.
Grind your flours. This time I used the bread setting, but I'll use the pastry setting next time.

Combine dry ingredients in one bowl and wet ingredients in a separate bowl.
Add dry ingredients to wet ingredients and mix until smooth.
Put your cookie dough in the refrigerator for 15-20 minutes to chill.
Make round balls (about 1-inch) and place on a parchment lined cookie sheet (should make about a dozen cookies).
Place pan in the oven and bake for 11-15 minutes (they should turn a golden brown).
Let cool on the pan for about 10 minutes until they are completely set.
Carefully transfer your maple cookies to a rack and allow them to cool completely.
Once they're cooled, serve them or store them in an airtight container for up to 3-4 days. Enjoy!