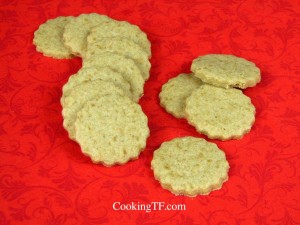 This Christmas, I wanted to take my standard sugar cookie recipe and do something different.  While sugar cookies are nice, a soft, chewy cookie wasn't what I wanted. I wanted a crisp, light cookie. I did a little modification to my recipe and came up with this treat.
This cookie is free of refined sweeteners and isn't too sweet. If you'd like them sweeter, you can certainly use more sugar, and you can use white sugar if that's what you desire. They're sweet enough that they don't need icing, although they are sturdy enough that they could hold up if you chose to ice them.
This recipe is great to have as a cut-out cookie for the holidays.  My children love making cookies with me around Christmas, but it's so hard to find a cookie that matches their allergen profiles.  This cookie is gluten-free, rolls well so they're able to cut and decorate, and they love the flavor.
If a light-colored cookie is needed, white rice combined with a white sugar such as organic cane sugar will give you the better color result.  However, I used sorghum instead of rice flour and rapadura instead of refined sugar because of the better nutrition.  Sorghum has a similar flavor and nutritional profile to wheat, but without the gluten.  Rapadura is a solid sweetener that retains the trace minerals of the sugar cane plant and it isn't highly refined.
I milled the sorghum, millet and buckwheat flours in my Wonder Mill on the pastry setting.  The fine texture helps to contribute to the crispness of the cookie.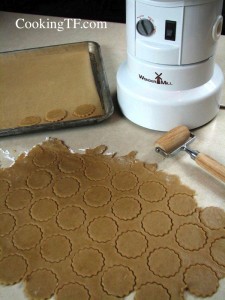 Gluten-Free Vanilla Sugar Snaps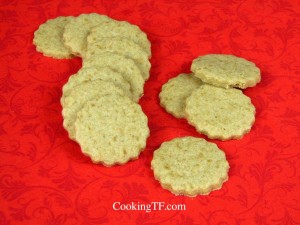 Author:
KerryAnn Foster @ CookingTF.com
A crisp, light, lightly sweetened gluten-free cookie
Ingredients
1 cup white rice or sorghum flour
½ cup millet flour
½ cup buckwheat flour
¼ cup arrowroot or cornstarch
¼ cup tapioca starch or potato starch
1 tsp baking powder
½ tsp sea salt
½ cup butter, softened
½ cup rapadura or other unrefined, solid sweetener
1 egg
2 tsp vanilla extract
Instructions
In a bowl, combine the flours, starches, baking powder and salt and mix well. Set aside.
In the bowl of a stand mixer, beat the butter until creamy. Add the rapadura and beat until combined.
Beat in the egg.
Add the dry ingredients in two batches, using low speed on the mixer to combine.
Add the vanilla extract and beat until the dough is uniform.
Remove the dough from the bowl and wrap in parchment paper or plastic wrap and refrigerate at least one hour or until firm. At this point, you can also transfer the dough to a ziplock bag and place in the freezer for future use.
Once the dough is very firm, preheat your oven to 350 degrees.
Flour your work surface liberally and roll out the dough to a ¼" thickness.
Cut out shapes and move to a parchment-lined cookie sheet.
Alternately, you can roll your dough out on parchment, cut your shapes out of the dough and remove the scraps. Transfer your cookies on the parchment paper to a cookie sheet. This preserves the shape of the cookies better than transferring them after cutting on a work surface.
Bake for 7-10 minutes, depending on the size of your cookie, until the edges are crispy and the middles are done.