Over the course to the Gran Mill Wagon challenge, I have mostly been experimenting with cookies–simply because that's my family's go-to sweet. Since we're cutting out gluten, it was important that I re-create our family favorites as gluten-free alternatives. We live on a very TIGHT income and simply cannot afford the expensive gluten-free flour options from the grocery store. So that's why I was so thankful to receive the Wonder Mill grain mill. It's not only one of the best grain mills I've ever used, but it has literally saved us a TON of money! Instead of having to purchase expensive gluten-free flours and products from the grocery store, I am now able to make my own! I've been experimenting mostly with rice flour and I can buy the organic brown rice MUCH cheaper than the organic brown rice flour. It simply makes more sense (and cents!) to grind your own!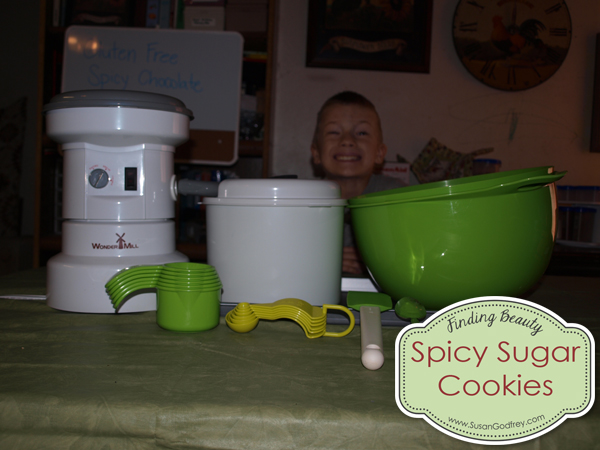 Over the course of this challenge, I've used home ground rice flour the most. I've used it in my Spicy Chocolate Chip Cookies, my Raisin Spice Cookies, and my Chocolate Cookies with great success. My family has adapted to the rice flour very well.  I'm pleased with that, because it's saving me money and allowing us to eat more gluten-free without breaking the bank.
This recipe for my Spicy Sugar Cookies is the latest recipe that I've adapted to gluten-free with rice flour.  These turned out really flavorful and crunchy. I was hoping for a softer cookie, but these turned out really well anyway. The fellas ate them all up quickly, so they must have been okay.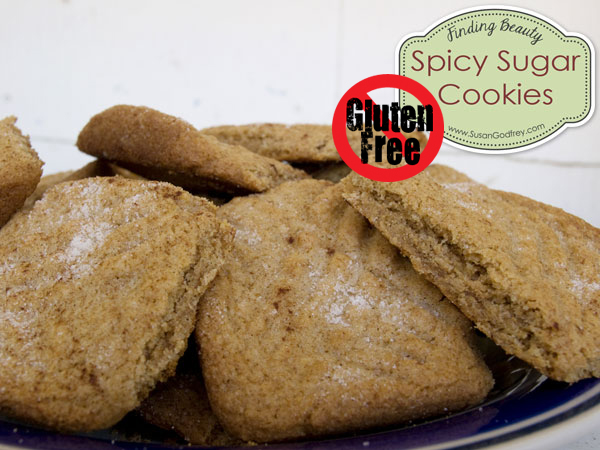 Gluten Free Spicy Sugar Cookies
Ingredients
1 cup sugar (Organic)
1 teaspoon baking powder (aluminum free)
1/2 teaspoon salt (real salt, pink Himalayan, Real Salt)
1/2 teaspoon baking soda
1/2 cup coconut oil
2 tablespoons milk (raw, organic)
1 teaspoon pumkin pie spice (or cinnamon)
1 large egg
2 cups brown rice flour (fresh ground)
cinnamon sugar
Preheat oven to 375°. In a large bowl, stir together all the ingredients, except for the cinnamon sugar. Place in the refrigerator for at least 1 hour (3-4 hours is better). Shape into 1 inch balls and place on a cookie sheet, 2 inches apart. Flatten each cookie with a fork. Sprinkle with cinnamon sugar. Bake for 8-10 minutes until light golden brown.