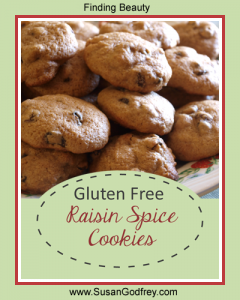 We are still going along on our journey of eating less wheat, which still has me in the kitchen experimenting with rice flour. So far we are really enjoying the fruits of my labor. My boys are happy because Mom experimenting in the kitchen means far more sweets than usual. I've had a house full of happy little taste testers! I have LOVED using my Wonder Mill grain grinder. It makes using fresh grains quick and easy and it runs like a dream and is pretty quiet, which really impressed me.
So, my husband requested some sort of raisin cookie. Oatmeal raisin cookies are his favorite, so I thought I'd play around with the rice flour a bit more and see if I could make a tasty treat for him. This recipe does not call for oatmeal, it is strictly rice flour only. And so the recipe for Gluten Free Raisin Spice Cookies was born, I will be sharing the recipe with you at the end of this post.
I learned a few things about cooking with rice flour in the process of making my first batch of rice flour based cookies that I want to share with you. First of all, rice flour creates a very dry and crumbly cookie. Not anything like the ooey-gooey cookies my family enjoys. The second issue was that the cookies came out a bit gritty. The rice flour cooks up that way, not a big deal unless you have a kid who has problems with food textures (like I do). So, I played around with the recipe and discovered a couple of work arounds for both of the issues.
For the dry and crumbly texture, I found that if you added the cornstarch and some plain gelatin, that the cookies come out soft and cake-like. The perfect ooey-gooey goodness my family likes. To get rid of the gritty texture, I put the dough in the refrigerator for an hour to "soak" and was thrilled to find that got rid of a lot of the gritty texture. I would imagine that the longer you let it "soak" in the refrigerator the less gritty the texture.
So I grabbed all the ingredients and my favorite little helper and got to cooking!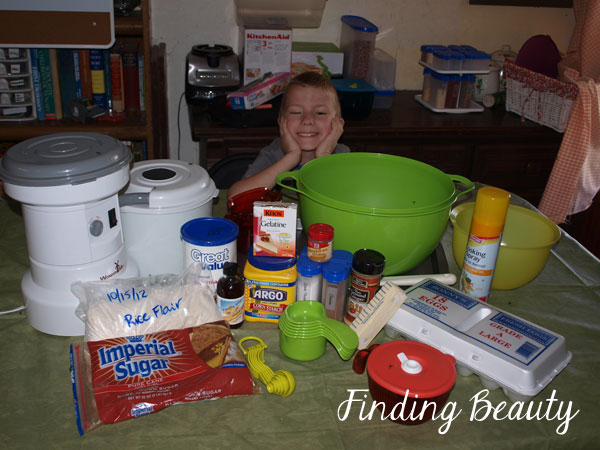 My boys and husband were pleasantly surprised at how yummy these were. My husband was beyond thrilled that I created a special raisin cookie just for him. A husband treated to his favorite cookie is a happy husband!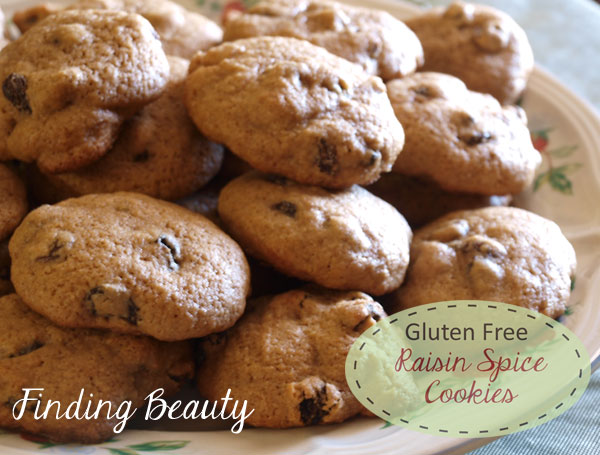 They came out absolutely perfect with a nice cake-like texture that we all enjoyed. The next time we make these, I'm going to try making them with dried cranberries or apples. I think that would be a yummy addition!
Gluten Free Raisin Spice Cookies
4 tbsp. boiling water
1 envelope plain gelatin
3 cups brown rice flour (fresh ground or purchased)
1 tsp. corn starch
1 tsp. sea salt
1 tsp. baking powder
½ tbsp. pumpkin pie spice
½ tbsp. ginger
½ cup melted butter
1 ½ cup dark brown sugar
2 eggs
1 ½ tsp. vanilla
2 cups raisins
Preheat oven to 350 degrees. In a small bowl, combine the 4 tbsp. boiling water and the envelope of plain gelatin. Let sit until the gelatin is dissolved; about 5 minutes. In a large bowl, combine the brown rice flour, corn starch, sea salt, pumpkin pie spice, ginger, and baking powder. In a separate bowl, mix together the butter, dark brown sugar, eggs, and vanilla, until mixed through. Pour in the dissolved gelatin and mix well. Pour the sugar/egg mixture into the bowl with the flour and mix well. Place in the refrigerator for at least 1 hour.
Spray the cookie sheet with cooking oil spray. Roll 1-1/2 tbsp. of the mixture into balls and place on the cookie sheet leaving 1 inch around the cookies. Bake for 9 minutes. Remove and allow to cool for about 5 minutes on the cookie sheet then transfer to a rack to cool completely. Store in an airtight container. Makes about 3 dozen cookies.