As I was taking inventory of my pantry, I found I had a box of Quinoa. I certainly wanted to give this a try in the Grain mill and I had found this delicious recipe. I will admit that I wasn't a fan of the smell of ground Quinoa, BUT you can not taste it in these brownies!
Gluten Free* German Chocolate Brownies-adapted from NBCNewYork
1 cup Quinoa flour
2/3 cup unsweetened shredded coconut
1/2 cup unsweetened cocoa powder
1 tsp baking powder
1/4 tsp salt
1/4 cup coconut oil
2 tsp vanilla
2 eggs
1 cup pure maple syrup
1/2 cup chopped toasted pecans(omitted)
Preheat oven to 325 degrees.
1. Place 1/2 cup quinoa into grain mill and process into flour.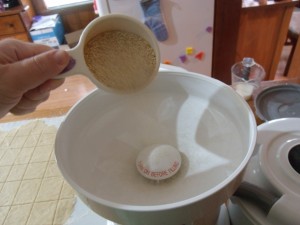 2. Mix together quinoa flour, coconut, baking powder, salt, and coconut in a bowl. Add in oil, eggs, vanilla, and maple syrup. Stir to combine.* I did add in a few dark chocolate chips as well.
3. Place in baking dish and bake for 25-30 minutes or until toothpick comes out barely clean and brownies start to shrink from the side of the pan.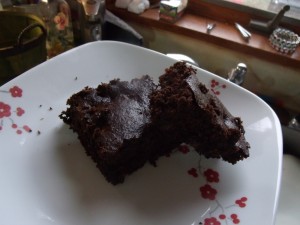 *Just make sure you clean your/empty your grain mill well if people are really sensitive to gluten, we are not, I just like to experiment so cross contamination won't bother us. Also double check to make sure all ingredients are also gluten free.
These brownies are definitely more cake like, but still tasty! My kids devoured them and didn't know they were "healthier". Next time I may try under cooking them a bit or make them more like my gooey brownie recipe to see how they fair, this is a great alternative for those who are gluten free! I also did double this recipe and altered it to meet our needs and what I had on hand.