I've been on a bit of a quest to find the perfect gluten free cookie. I just may have discovered it! As you know, I've been playing around with rice flour of late. I use fresh ground rice that I grind in our WhisperMill grain grinder. I have to say, I'm STILL in love with my WhisperMill! It grinds everything so effortlessly and it's really not near as loud as other grain mills I've tried.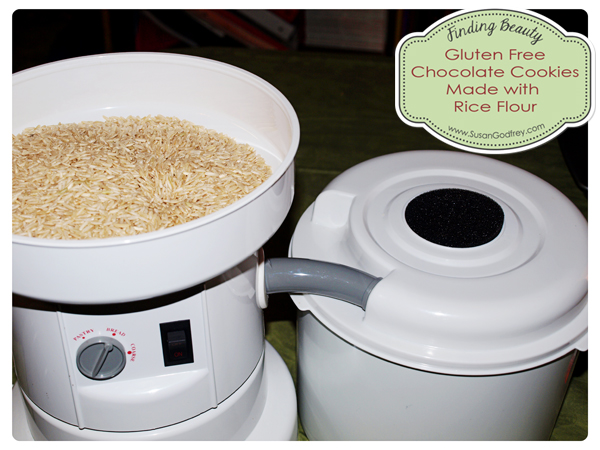 As you know, I've been experimenting with rice flour quite a lot. Mostly because I can get rice so much cheaper than most other grains and I can get it locally. This saves me time and money. Granted, I had to learn a few tricks along the way, but that's how it is with all new things. Anyway, back to the cookies 🙂
My kids have been really bugging me for some chocolate cookies. So I began playing around in the kitchen to see what I could come up with. I've been craving chocolate, so I decided that I'd try my hand at developing a gluten free chocolate cookie. I wanted a cookie that would be firm on the outside and soft and moist on the inside. Something not too crumbly. I experimented until I got the recipe just right and I think I have now developed one of the most YUMMY gluten free cookies I've ever tasted. My kids agree, so it must be so! (GRIN!)
Below is the recipe, but before that, here is a photo to get your taste buds begging for them!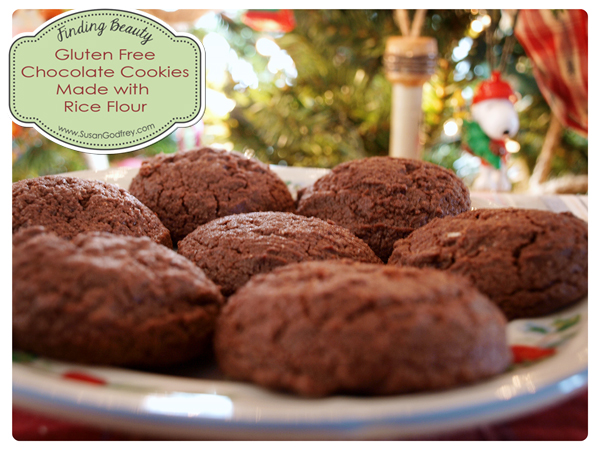 Gluten Free Chocolate Cookies
Ingredients
1 – 1/4 cup rice flour (fresh ground)
1 teaspoon baking powder
1/2 teaspoon real salt
2/3 cups cocoa
1/2 cup grass-fed butter
1/2 cup sugar (organic)
1/2 cup brown sugar (organic)
1 – 1/2 teaspoon vanilla
1/3 cup raw milk
Directions
Preheat oven to 325°. Mix together all dry ingredients. Then mix in the butter, vanilla, and milk. Mix together until combined well. Spray cookie sheets with oil spray. Using a cookie scoop, place scoops of the cookie dough onto the cookie sheets. Bake in 325° oven for 14-15 minutes. Let cook on cookie sheets slightly and then transfer to cookie racks to cool completely. Makes about 2 dozen cookies.