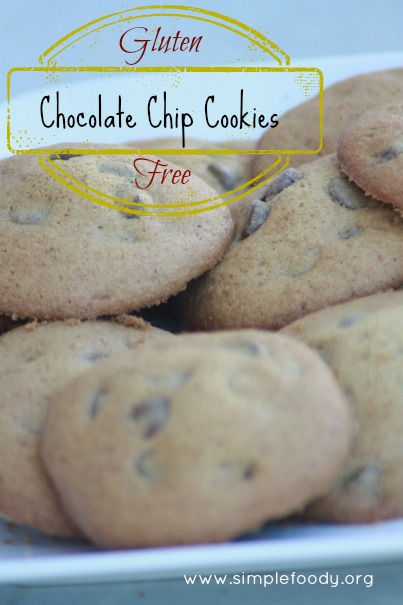 I've been working on a gluten-free chocolate chip cookie recipe for a while, and finally I think I've perfected it.  No weird ingredients, gum-free, and economical if you are grinding your own flours.  These cookies are crisp on the outside, and chewy on the inside.  It's the perfect combo.  This recipe is bean-free so go ahead, eat the cookie dough.  It really is good with no weird aftertaste.  *We cook/bake with eggs from our own hens so I don't stress about eating raw eggs, but if you are buying eggs from the store, you may not want to eat any raw cookie dough, it's your call.
Helpful Tip: If you only want to make a few cookies at a time, bake what you want then flash freeze cookie dough balls on a cookie sheet.  Once frozen remove dough balls from the cookie sheet and store in a zip top bag.  When you are ready for cookies, pull a few out of the bag, place on a cookie sheet and bake for 15-20 minutes at 350.  You'll have to watch it as all freezers and ovens are different.  *If your cookie dough is frozen at 10 degrees it will take longer to bake than at 25 degrees.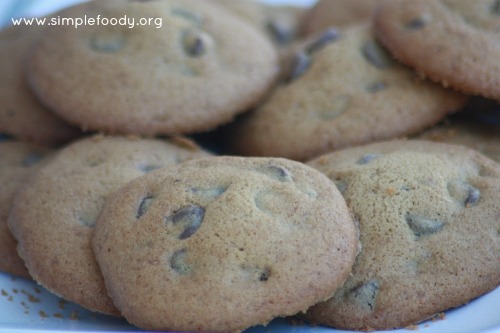 Gluten-Free Chocolate Chip Cookies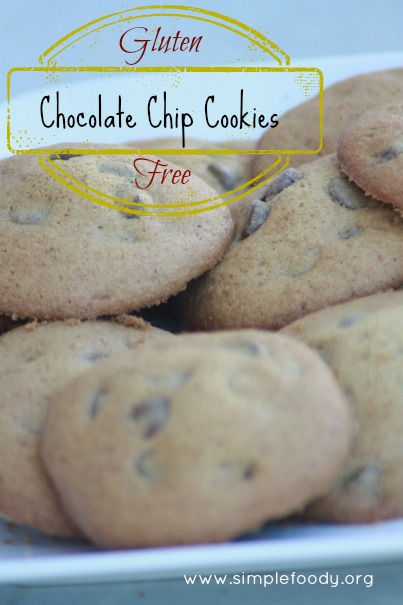 Author:
Katie Baldridge @ SimpleFoody.org
A delicious and simple gluten-free chocolate chip cookie recipe.
Ingredients
¾ cup butter (1½ sticks)
1 cup sucanat, rapadura, or brown sugar
2 eggs
1 tablespoon vanilla
½ teaspoon lemon juice
1¼ cup rice flour
½ cup potato starch
½ cup tapioca starch
1 teaspoon baking soda
½ teaspoon salt
½ teaspoon gelatin
1½ cups chocolate chips
Instructions
Using a stand mixer, combine the butter and sweetener, whip on high until creamy.
Add eggs, vanilla, and lemon juice, whip until thoroughly combined.
Add the rest of the ingredients except for the chocolate chips, then whip on medium high for one minute.
Add chocolate chips and mix to combine.
Drop teaspoon sized balls of dough onto a cookie sheet. Bake at 350 for 8-9 minutes or until golden brown.