As I've said previously, my sister-in-law is eating gluten-free, and it's been a new experiment to try baking foods that she can eat.  I've had friends before that ate strictly gluten-free, so I was already prepared about how much hard work it is.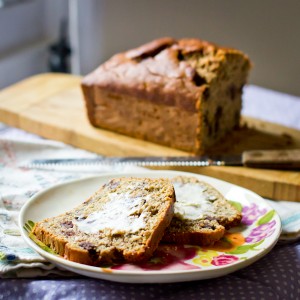 However, though I'm not ashamed to buy things like pasta or granola already made gluten-free, something deep in my core strongly protests against buying boxed mixes for cakes or breads. Plus, banana bread is just plain hard to mess up, so I decided it might be a good direction to go in for my first gluten-free attempt using the new all-purpose flour mix.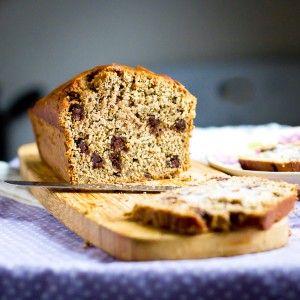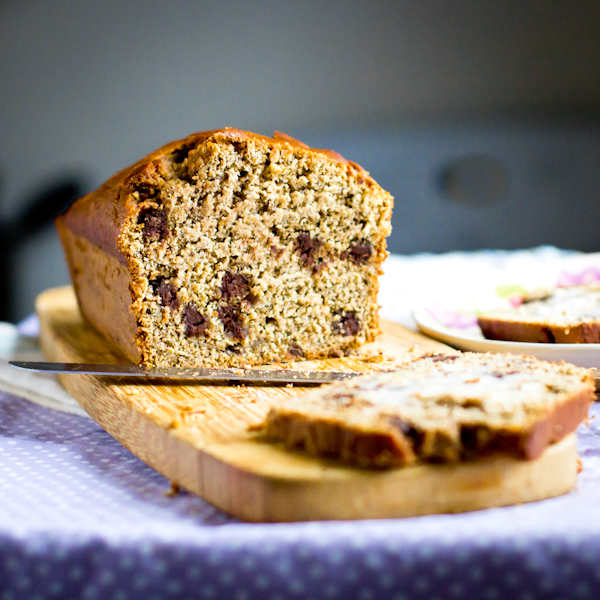 Gluten-Free Chocolate Chip Banana Bread (adapted a lot from Edible Perspective)
2 large ripe bananas
2 eggs
3 T vegetable oil
3 T pumpkin puree (apple sauce would also work)
2 t vanilla
2 T ground flaxseed
1/2 C sugar
2 t cinnamon
1 t baking powder
1/2 t baking soda
1/2 t salt
 1/2 C chocolate chips (gluten-free)
Prepare the flour mix using the WonderMill as necessary.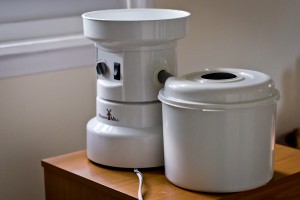 Preheat the oven to 350 degrees, and lightly grease a baking pan.  I also lined it with parchment paper to make it easy to remove the loaf from the pan. Combine the wet ingredients–banana, eggs, vegetable oil, pumpkin puree, and vanilla. Stir in the wet ingredients and mix until blended, then add the chocolate chips. Pour the batter into the greased loaf pan, and spread it evenly across the top.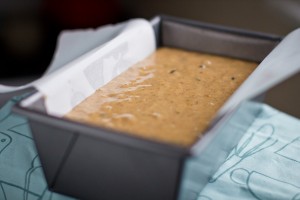 Bake on the middle rack until an inserted toothpick comes out with crumbs clinging to it, about an hour.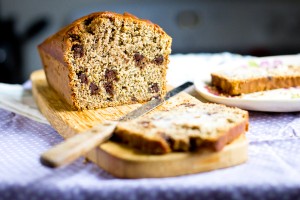 I was really impressed at how well the loaf rose, cracked, and looked just like regular banana bread.  It was moist, sweet, and incredibly easy to slice once cooled.
Fritz (my husband) said he would have had no idea that this bread was gluten-free.  I could definitely taste the different flours, but it was much more like a regular old banana bread than I expected it to be!  Toasted with butter: heaven.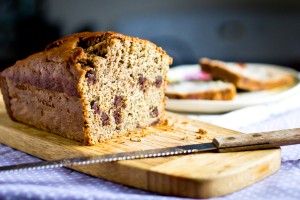 No gums or weird ingredients (well, weirder than buckwheat flour, I guess) necessary! I'm excited to use this flour mix for other things that I imagine will translate easily to the gluten-free realm (brownies, anyone?) and still a little apprehensive about desserts like cookies that are expected to have a certain consistency.  We shall see!