Since May is National Celiac Awareness Month, I only thought it would be fitting to offer a gluten free recipe. I love a good breakfast muffin, so I spent a good part of the weekend checking out recipes that I could modify to make gluten free.
I decided to use my WonderMill to make flour out of quinoa. Because it is a small grain, it's recommended that your pour it very slowly into the hopper to avoid jamming. The result however is awesome!
I found a basic recipe for "Breakfast Muffins" on Allrecipes.com and decided to use it as a launching point. The first batch turned out pretty dense, although quite tasty. So I modified my ingredients and went to the store. Round two provided to be much more effective and the result is a savory and delicious breakfast muffin.
Gluten-Free Cherry Walnut Muffins
Inspired by Breakfast Muffins on Allrecipes.com 
1 3/4 cups freshly milled  RED Quinoa flour
2/3 cup molasses
2 1/2 teaspoons baking powder
1/2 teaspoon salt
3/4 cup milk
1 egg
1/3 cup butter, melted
1 cup dried sour bing cherries
1/2 cup walnut pieces (optional)
Gather your ingredients. I can't tell you how many times I've started a recipe only to be digging for something that I need. This simple step will save you tons of time!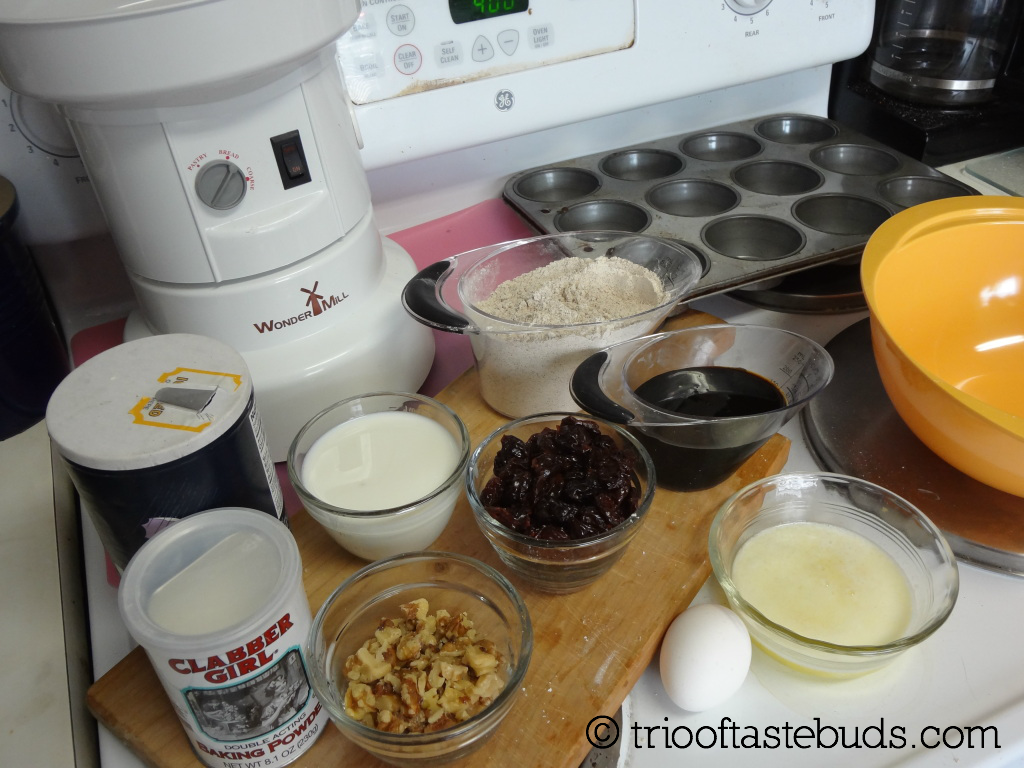 In a large bowl, whisk together flour, baking powder, and salt. Add milk, egg, and butter; mix until ingredients are just moistened, do not overbeat or you will have a stiff muffin. Incorporate the molasses. Mix in your cheeries and walnuts if desired.
Spoon batter into a greased twelve cup muffin tin. I like to use Crisco to grease my tins.
Bake at 400 degrees Ffor about 20 to 25 minutes, or until tops spring back when lightly touched. Serve warm with butter.