In the next installment of my experiments with gluten-free cooking, I decided to try my hand at biscuits.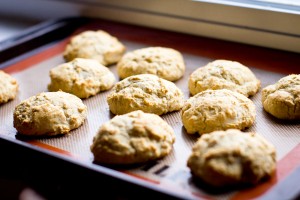 Buttermilk biscuits, of course, because I think even dirt would taste pretty good baked with buttermilk.
Gluten-Free Buttermilk Biscuits (adapted from Gluten Free Canteen)
280 grams gluten-free all-purpose flour mix
3 t baking powder
1 t salt
1/4 t baking soda
2 T cold, unsalted butter
2 T cold shortening
3/4 to 1 C buttermilk (I mix dry buttermilk powder in with the dry ingredients, and add water as you would buttermilk)
Preheat the oven to 450 degrees and line a baking sheet with parchment paper or a non-stick baking mat.
I used the WonderMill to make the all-purpose gluten-free flour mix in advance.  If you plan on cooking gluten-free more than once, I strongly suggest that you store a batch of flour to use whenever you need it.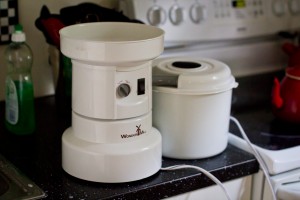 Combine the dry ingredients–all-purpose flour, salt, baking soda, and baking powder.  Drop the butter and shortening into the bowl, and mix in the flour with the butter using your fingers or a fork until you get coarse crumbs–there will be some unmixed flour, too, so don't stress.  What you don't want to do is let the mixture get too warm and have all the butter/shortening melt.
Pour the buttermilk into the mixture a little at a time.  You want the dough to be "sticky wet", as the original blog called it.  I ended up using just over 3/4 C of buttermilk.
Drop spoonfuls on the baking sheet–this recipe should make about 12 biscuits.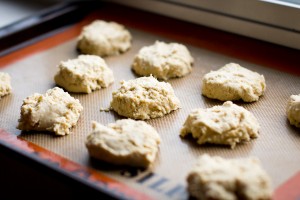 You can leave them rustic, or shape them a bit to make them a little prettier.  I rounded them off a bit.
Bake on the middle rack for about 10-12 minutes, until the are a nice golden-brown on top.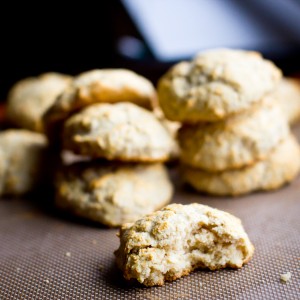 I was really shocked at how crispy-crunchy the edges were, and how the inside of the biscuits were super fluffy.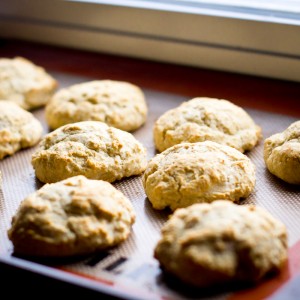 There was a really nice salty buttermilk flavor that was (trust me on this one) amazing drenched in honey.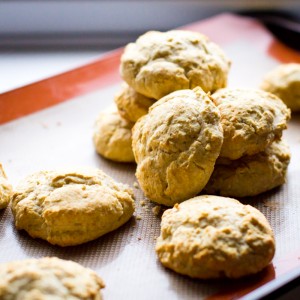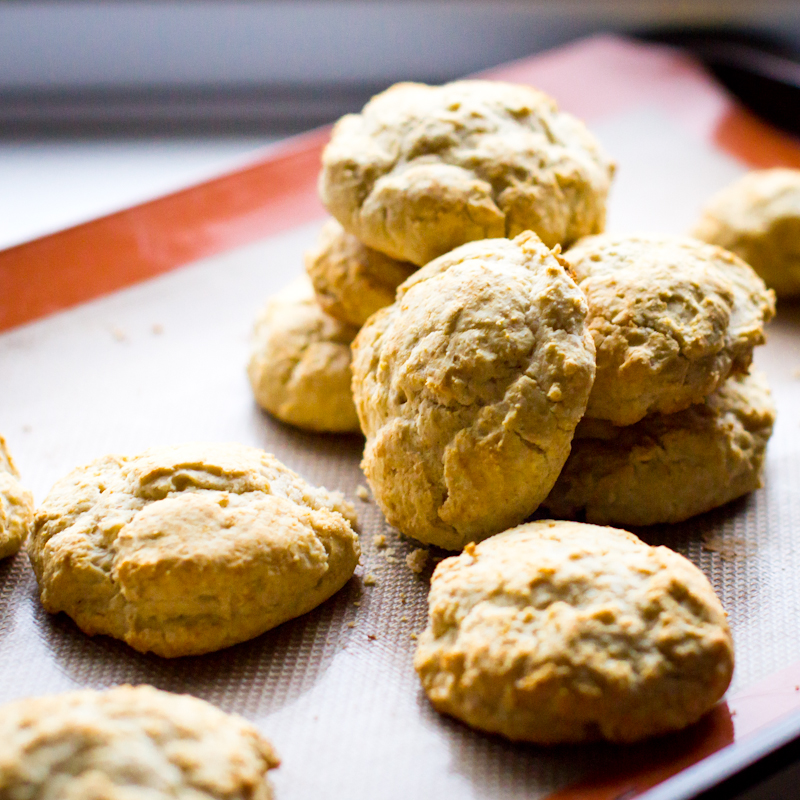 Were they miles  better than any other buttermilk biscuit I've had?  No.  But they were a more than passable version for those who have to be gluten-free.  And to be fair, I think they would be equal to any other biscuit made with the same ratio of butter to flour to vegetable shortening.  And did I eat half of them in one day?  I'll let you consider that question independently.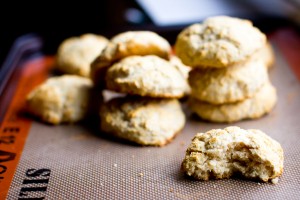 I'll definitely try them again with all butter to see if they hold their shape as well during baking.  And possibly with less baking powder.  And with garlic and rosemary mixed in because hello!  That would be freaking delicious.