I love being able to experiment with different grains to create healthy, nutritious flours I can use to bake for my entire family!  My son-in-law who is gluten-intolerant has benefited from the wide variety of flours and blends that we have access to, now, since I can mill it fresh in my own kitchen!
I created a new gluten-free flour blend with corn, brown rice and oat flours as the proteins and potato starch and sweet white rice flour as the starches.  It's perfect in these delicious Blue Corn Tea Cakes that I made for our granddaughters.  Since they're loaded with blueberries, these tasty muffins needed nothing other than fun-shaped pans to make them a special treat.
Blue Corn Tea Cakes (Muffins)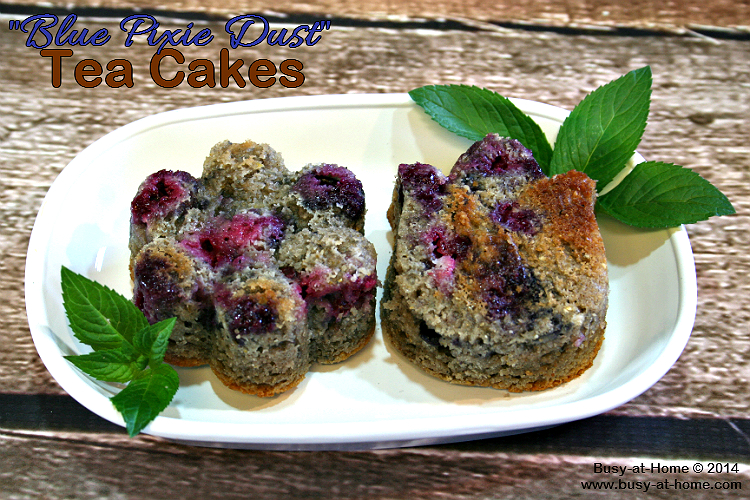 Ingredients
280 grams Gluten-free Blue Corn Flour Blend (MUST be weighed!)
122 grams (1/2 cup) sugar (I used Zulka Morena unrefined sugar.)
12 grams (1 Tablespoon) baking powder, aluminum-free
4 grams (1/2 teaspoon) Celtic Sea salt
1 teaspoon cinnamon
¼ cup coconut oil (could substitute butter, not margarine), melted
1 cup whole milk
1 teaspoon pure vanilla extract
1 large egg
1 cup fresh or frozen blueberries
Instructions
Mix all dry ingredients in a large mixing bowl.
Make a well in the center of the dry ingredients and add the oil, milk eggs and vanilla.
Stir to combine.
Add blueberries and mix thoroughly.
Grease cups of a 12 cup muffin tin or line with muffin papers.
Fill cups about ¾ full with batter.
Bake at 400 degrees for 20 minutes or until golden brown.
Leave in tins for about 10 minutes and then remove from tins and cool on a wire rack.