We did corn. We did rice. What's next?
Oat flour!
I learned how to make homemade funnel cake back in junior high home ec class. While I have always bugged hubby to make them with me, we just never had so this was a perfect excuse to make homemade funnel cakes!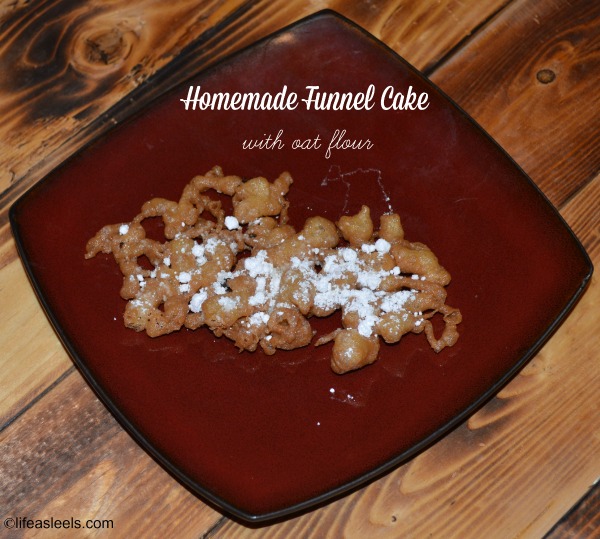 The first thing we had to do was make our oat flour.
We purchased rolled oats in bulk (super cheap which I have to say, I'm still amazed at how cost effective it is to buy bulk and make our own flour).
Then it was home to use our Grain Mill to make some oat flour!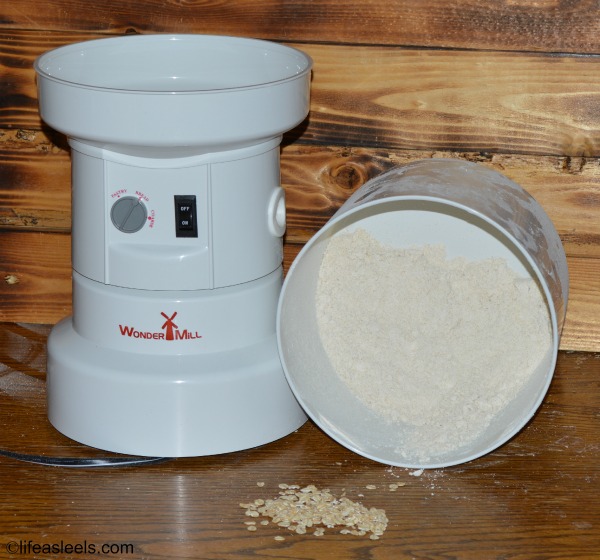 Once we had our oat flour, we were good to go with making our homemade funnel cakes!
Ingredients
1 cup water
3/4 stick butter (6 tablespoons)
1 tablespoon sugar
1/8 teaspoon salt
1 cup oat flour
1 cup eggs, about 4 large eggs and 2 whites
Vegetable oil, for frying
Powdered sugar, for topping
Piping bag, ziplock bag, or cooking funnel
Directions
Boil water, butter, sugar, and salt together in a saucepan.
Add oat flour and work it in until it is all incorporated and dough forms a ball.
Transfer mixture to the bowl of a standing mixer and let cool for 3 to 4 minutes.
With the mixer lowest speed, add eggs, 1 at a time, making sure the first egg is completely incorporated before continuing.
Once all eggs have been added and mixture is smooth, put dough in a piping bag or a zip lock bag; or leave it in the bowl and you can use a cooking funnel.
Heat about 1 1/2 inches of oil in a heavy pan.
If you are using a piping bag or zip lock bag (with tip cut off), pipe dough into oil, making a free-form lattice pattern. If you are using the cooking funnel, hold the funnel over the oil and pour the batter through the funnel – moving the funnel around to create a free form lattice pattern.
Cook until browned, flipping once.
Remove cake from oil, drain on paper towels, and top with powdered sugar.
Continue until all of the batter is used, or until just a small amount remains in the bottom of the bowl (we noticed our last little bit started to form into oatmeal from the oat flour!)
Recipe adapted from http://www.foodnetwork.com/recipes/alton-brown/funnel-cake-recipe.html

Funnel Cake with Oat Flour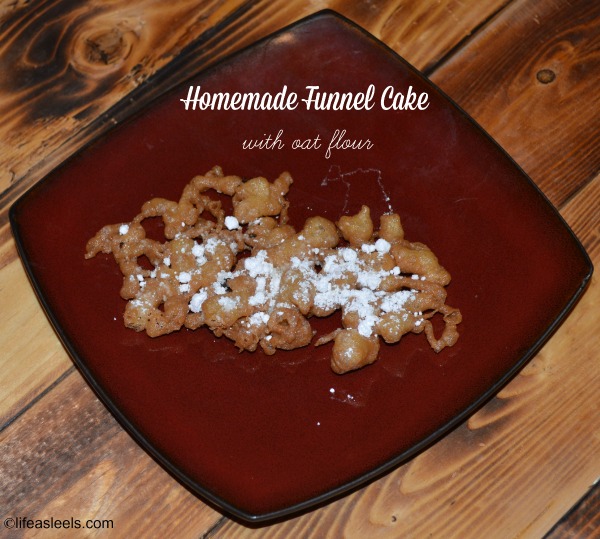 Ingredients
1 cup water
¾ stick butter (6 tablespoons)
1 tablespoon sugar
⅛ teaspoon salt
1 cup oat flour
1 cup eggs, about 4 large eggs and 2 whites
Vegetable oil, for frying
Powdered sugar, for topping
Piping bag, ziplock bag, or cooking funnel
Instructions
Boil water, butter, sugar, and salt together in a saucepan.
Add oat flour and work it in until it is all incorporated and dough forms a ball.
Transfer mixture to the bowl of a standing mixer and let cool for 3 to 4 minutes.
With the mixer lowest speed, add eggs, 1 at a time, making sure the first egg is completely incorporated before continuing.
Once all eggs have been added and mixture is smooth, put dough in a piping bag or a zip lock bag; or leave it in the bowl and you can use a cooking funnel.
Heat about 1½ inches of oil in a heavy pan.
If you are using a piping bag or zip lock bag (with tip cut off), pipe dough into oil, making a free-form lattice pattern. If you are using the cooking funnel, hold the funnel over the oil and pour the batter through the funnel - moving the funnel around to create a free form lattice pattern.
Cook until browned, flipping once.
Remove cake from oil, drain on paper towels, and top with powdered sugar.
Continue until all of the batter is used, or until just a small amount remains in the bottom of the bowl (we noticed our last little bit started to form into oatmeal from the oat flour!)