We love chicken sandwiches.  Let's be honest; they are just plain good!  Even if you can find a great chicken sandwich out, it is so much cheaper to make them at home.  If I shop some good sales, I can make chicken sandwich combos for our entire family of 5 for not much more than the cost of one combo at any given fast food restaurant.  All it takes is a little time.  Top the sandwiches with lettuce and tomato, add a little side salad, and serve with a few fries and you have a full, healthy meal.  If I can get my kids involved in making dinner and feed them fresh food that I know has no preservatives, that time is well worth it!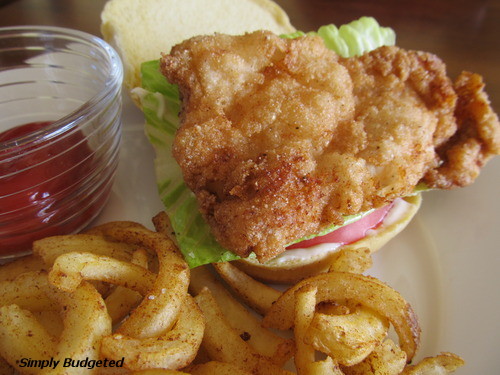 Fried Chicken Sandwich
Ingredients
1 pound chicken breasts, pounded flat and cut in half
2 cups buttermilk
2 cups whole wheat flour
1 tbsp paprika
2 tsp onion powder
1 tsp garlic powder
1 tsp black pepper
1 tsp salt
oil for frying
sandwich rolls, lettuce, tomato, mayonnaise, etc
Directions
Place chicken and buttermilk into a container just large enough to hold it.  Refrigerate 8 hours or overnight.
Combine flour, paprika, onion powder, garlic powder, pepper, and salt.  Remove chicken from buttermilk and coat in the flour mixture.  Allow to rest for 10-15 minutes so that the flour mixture will stick to the chicken.
Heat 1-2 inches of oil to 350.  Cook about 10 minutes per side or until a thermometer inserted into the chicken reads 165.  Serve on a bun with lettuce, tomato, mayonnaise, or any toppings or condiments that you wish.