I love chicken pot pie and so do my kids, which is always a bonus at dinnertime because avoiding a fight over food at dinnertime is first on my agenda. This recipe was passed on to me from my sister-in-law. She described this recipe to me as the "Southern" way of making a chicken pot pie. Seeing as I am not from the South I had never tasted anything like it before, and when she made it for us in her home in Winston-Salem, NC, I instantly fell in love with the recipe.
This is also one of my standby recipes I make when I have to take a meal to a new mama or a family who needs a meal. It's easy, quick, kids typically like it, and it's just flat out delicious. Now, all that being said, I normally make this recipe with homemade pie crust but I don't typically use fresh milled flour to make the crust. Well I recently got my new WonderMill and since, I have to admit, I've kind of become a fresh milled flour snob. Knowing how good it is for you, and all the nutrients it has, I have a hard time using white flour. This recipe can of course be used with white flour, and you can also use store bought pie crust, which, in a time crunch to make dinner, I have used as well.
Chicken Pot Pie
4 Tbsp. butter
6 Tbsp. flour
Melt butter in sauce pan on low heat and then add flour, this mixture will be a thick paste consistency. Add to that mixture:
1 3/4 C. chicken broth
2/3 C. milk
1/2 tsp. salt
1/4 tsp. pepper
I use homemade broth when I make this and boil my chicken breast prior to making this filling. I typically boil two large chicken breasts in a pan with 2-2 1/2 cups water. I let the chicken reach a boil, then I reduce the heat to simmer for 45 minutes. The broth produced, I then strain and use in the pot pie filling.
Add the broth and milk, and with a whisk stir until the butter flour paste dissolves completely. Heat this broth mixture over medium heat until it thickens to a gravy consistency. Once the filling mixture has thickened, remove the pan from heat. And remember, it will thicken more as it sits and cools. Once you have removed it from heat, add the boiled chicken breast. After I boil the chicken I place it in my Kitchen Aid mixer and shred it by using the flat beater attachment. Once you add the chicken to the filling sauce, just pour the entire mixture into your pie crust.
Now for the pie crust recipe. This recipe I actually used from Hodgson Mill's website. I just searched for whole grain pie crust and it popped up first, and it looked easy.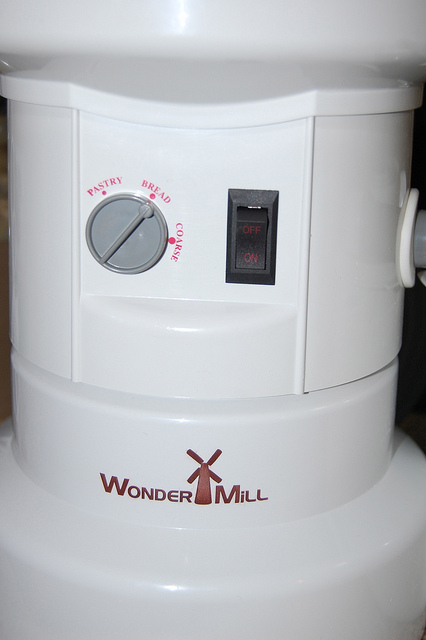 Whole Wheat Pie Crust

1 C. fresh milled white hard wheat
1 Tbsp. butter (I used coconut oil)
1 1/2 tsp. baking powder
1/4 cup cold water
Combine the flour and baking powder with firm butter(instead I used coconut oil). Blend in water, beating about 15 strokes, adding additional water 1 Tbsp at a time if needed. Turn onto floured surface and knead 5 times. Roll dough out thin about 2 inches larger than a 9-inch pie pan. Place dough in pie pan and add chicken pot pie filling. The above recipe makes one pie crust. I doubled it and then placed my second crust on top. I then fluted the edges and sliced vent openings in the top of the crust. Bake at 425˚ for 25 minutes.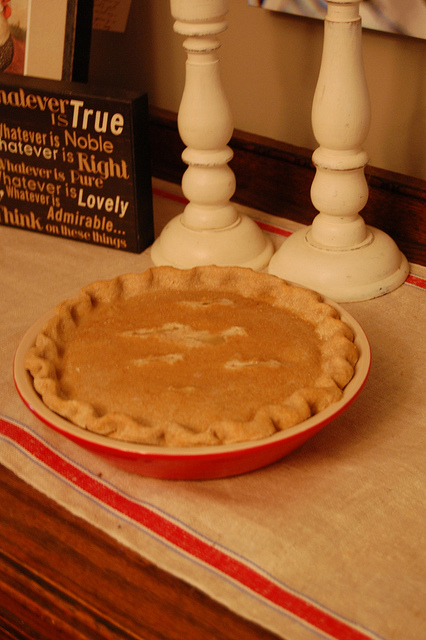 ***This is my third recipe for The Grain Mill Wagon Challenge.****