If you follow food, you have probably heard about some exciting breads coming from artisanal bakeries. Brilliant and creative bakers, like Chad Robertson at Tartine in San Francisco, or Jim Lahey at Sullivan Street Bakery in New York, or my local bread gurus, Steve Horton and Tammy Hoyt-Simonds at Rustica in Minneapolis, are using local flours, wild yeasts, and slow ferments to produce amazing loaves. These are just a few of the more illustrious bakers pursuing great bread.
Thanks to all this excitement about real ingredients and superb technique, we can now pick up loaves with crackling, caramelized crusts, open, translucent crumbs, and formerly exotic whole grain breads with amazing flavor and texture.
I've tried a number of recipes, like Lahey's famous overnight pizza dough and no-knead bread. My friends Zoe Francois and Jeff Hertzberg wrote the books on Artisan Bread in Five Minutes. They are amazing. But I wanted to try to find a slightly abbreviated way to make a really interesting whole kamut flour loaf.
So, I turned to Tartine Book No 3 by Chad Roberts (Chronicle Books) and studied his use of ancient grains in bread. All his breads are baked using a wild yeast leaven, not packaged yeast.  According to Roberts, Kamut has lots of fragile gluten, and the dough should be quite wet and loose. He recommends handling it very gently, with slow fermentations and a gentle folding every half hour.
Since making the starter takes several days, I decided to cheat. I used yeast. I was more interested in seeing whether a day's worth of fermentation at room temperature, combined with his folding methods, would make an interesting focaccia. Since focaccia doesn't have to rise that far, or bake very long, I figured I could abbreviate things and not sacrifice a tasty result.

Fresh Kamut Flour Focaccia: A Simple No Knead Bread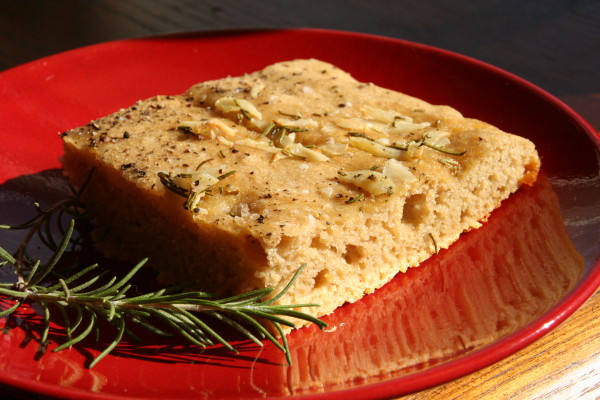 An easy and tasty process for a great whole grain focaccia.
Ingredients
440 g kamut, ground to make 4 cups flour
3 cups warm water
1 teaspoon salt
2 teaspoons yeast
olive oil for pan, plus 2 T for topping
cornmeal for pan
3 cloves garlic, chopped
2 tablespoons fresh rosemary, chopped
coarse salt and freshly cracked pepper
Instructions
In a large bowl, stir all the ingredients until mixed. Don't worry that it's lumpy or loose. Cover with a wet towel or a pot lid to keep from drying out on top. Every 30 minutes, or hour, fold the dough across itself very gently, then turn the bowl a quarter turn and do it again. Try not to deflate.
Do this for six hours or so.
Preheat the oven, with a baking stone, to 425 F. Oil a large roasting pan and sprinkle heavily with coarse cornmeal Gently scrape the dough onto the cornmeal and spread lightly. Cover with the wet towel and let rise as the oven heats. Mix the olive oil, garlic and rosemary.
When the oven is hot, drizzle the garlic mixture over the dough and sprinkle with salt and pepper.
Bake for about 20 minutes, the edges will get quite crisp and brown and it will feel firm to the touch.
Cool on the pan for 5 minutes, before carefully removing with a metal spatula.
Serve with toppings of choice, like soft goat cheese or butter, or cool and split to use for sandwiches or panini.
I ground the kamut, and relied on it's amazing taste to carry me through. I used the bread setting on my Wondermill.
So I mixed up a loose dough, 100% kamut flour, yeast, salt and water.
Over the course of about 6 hours, I used the spatula to fold the dough across itself every hour or half hour, depending on whether I was around. Each time I gently scooped up the edge and pulled it across, then turned the bowl, to fold it four times. Then I loosely covered it with a wet towel.
The dough was bubbly and loose when I decided it was time to preheat the oven to 425. I have a stone in the bottom, so I gave it half an hour. I oiled a large roasting pan and then covered the bottom pretty thickly with coarse cornmeal. I gently poured the dough over the cornmeal and put the towel over the pan for half an hour. I chopped garlic and rosemary and mixed them with olive oil. Just before baking, I drizzled the oil mixture over the loaf. Then, into the oven.
The result, a crispy bottomed, golden focaccia with a nice irregular, open crumb for a whole grain bread.
I like the idea of making this on a days when I am home, since I just have to remember to give it a fold now and then. It makes great sandwiches all week long, too!