I love making banana bread. Not only is it quick and easy, it's a great way to use up any overripe bananas you have sitting around. I enjoy eating a slice with fruit for breakfast or as a fuss-free snack in the morning or afternoon.
I learned how to make quick breads at a young age, but even after all these years, I never grow tired of trying new recipes.  The quick breads I grew up with were made with white all-purpose flour so I've been on a quest to make healthier versions of my favorite breads.
Over the years, I've tried different whole wheat banana bread recipes; some I liked, some I didn't, and some just didn't turn out at all. I gave up on it for a while, but I had some overripe bananas that needed to be used so I decided it was time to try a different recipe.
The inspiration for this bread came from King Arthur Flour's Whole Wheat Banana Bread.
My version of this healthy banana bread is made with fresh whole wheat flour milled from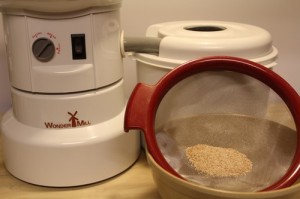 hard red winter wheat berries in an electric WonderMill Grain Mill. To make the loaf a little bit lighter, and still retain most of the nutrients, I sifted out some of the bran and germ from one cup of the whole wheat flour. I also substituted olive oil for the vegetable oil and reduced the amount of sugar.
The result is a delicious banana bread that's not too sweet, and has a lighter, moister, whole-grain texture. It's very flavorful.  Of course, if you prefer a sweeter loaf, you can always add more sugar. I used raw sugar, but you could also use granulated or brown sugar or honey if you prefer.
Like most quick breads, this loaf tastes better the day after you bake it. Letting it rest overnight gives the unique characteristics of the loaf time to develop and blend together.  The cinnamon-sugar topping is optional, but I recommend it because it enhances the flavor and adds a slightly crunchy texture to the crumb.

Easy Whole Wheat Banana Bread
Ingredients
Batter
2 cups very ripe bananas, mashed (about 4 or 5 medium bananas)
½ cup olive oil
½ cup raw sugar
2 large eggs
3 tablespoons almond milk
1¼ teaspoon vanilla extract
1 cup Whole Wheat Flour
1 cup Whole Wheat Flour, sifted once to remove part of bran and germ
1 teaspoon baking soda
½ teaspoon baking powder
½ teaspoon salt
½ cup chopped walnuts, optional (I omitted the walnuts)
Optional Topping
2 tablespoons sugar
1 teaspoon ground cinnamon
Instructions
Preheat the oven to 350°F and lightly grease a 9" x 5" loaf pan.
Mash the bananas in a large bowl, then stir in the oil, sugar, eggs, milk, and vanilla.
Mix together the flours, baking soda, baking powder, salt, and chopped walnuts, if using, and add to the liquid ingredients. Be sure to scrape the bottom and sides of the bowl to thoroughly incorporate the ingredients.
Spread the batter into the prepared loaf pan.
Mix together the sugar and cinnamon, and sprinkle over the batter.
Bake the bread for about 60 to 75 minutes, until a toothpick inserted into the center comes out clean. If the bread appears to be browning too quickly, you might want to tent it with aluminum foil for the final 15 to 20 minutes of baking.
Remove the loaf from the oven. Let it cool in the pan for 10 minutes, then gently remove it from the pan onto a wire rack to cool completely.
Happy Baking!
Cathy