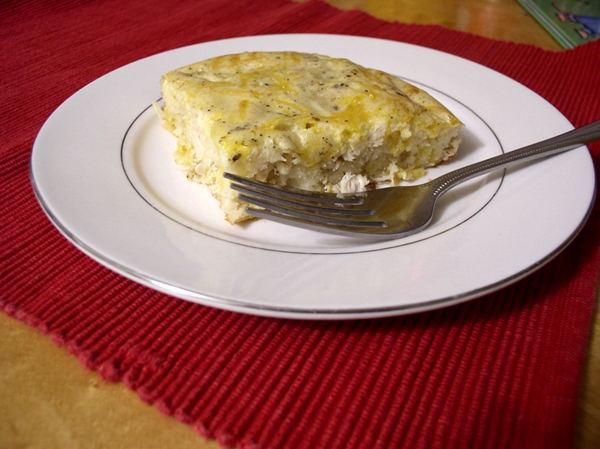 Easy Dinner Pie
1 lb. cooked meat (ground turkey, ground beef, sausage, chicken breast, etc.)
1/2 tsp. salt
1 c. shredded cheddar (or other cheese)
3/4 c. freshly-ground white wheat flour or brown rice flour
3/4 tsp. baking powder
1/4 tsp. salt
seasonings to taste
1/2 Tbsp. oil
1 c. milk (or milk substitute)
2 eggs
Heat oven to 400 degrees F.  Grease 9-inch deep-dish pie plate or 8-inch square baking dish.  Spread cooked meat in dish; sprinkle with salt and cheese.  Stir remaining ingredients together until blended; pour into dish on top of meat and cheese.  Bake for about 25 minutes, or until bubbly and cooked through.
This can be doubled and baked in a 9×13-inch baking dish.  I have not found any increase in baking time to be necessary.
 Why I Like This Recipe
The original recipe called for ground turkey and shredded cheddar, and used 1/4 tsp. onion powder as the seasoning.  I love it, though, because it's such a versatile base!  Any cooked meat can be substituted for the ground turkey, and you can swap out the cheese and seasonings for a wide variety of end results.  (I've even used canned beans in place of the meat.)  Moreover, it's very easy to make gluten-free, making it a good staple recipe for a gluten-free household.
Some suggested combinations:
cooked chicken or turkey, with cheddar cheese and sage & thyme (Tastes like Thanksgiving!  That's what's pictured here.)
black beans, with Monterey Jack cheese and taco seasoning
cooked breakfast sausage, with cheddar cheese and basic seasonings (salt, pepper)
cooked chicken, with Swiss cheese and summer savory
Making It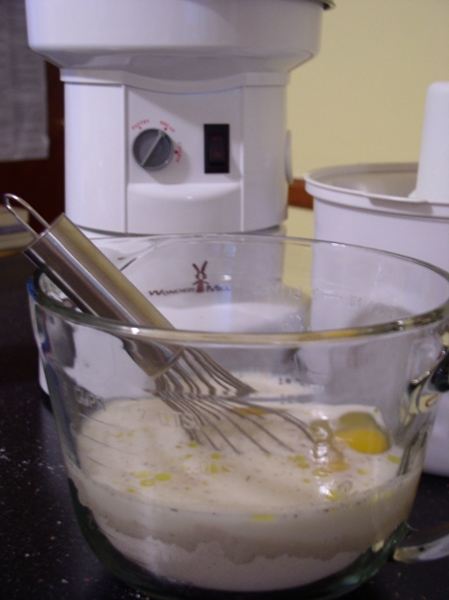 After choosing your meat and cheese, and spreading them in the baking dish, toss all of the other ingredients into a mixing bowl.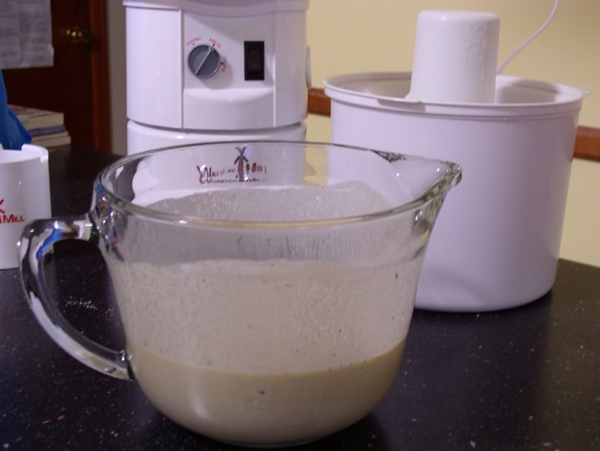 Mix well with a whisk…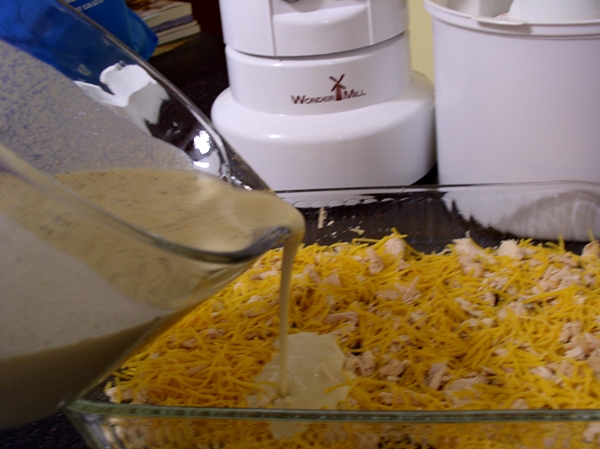 …and pour the batter over the meat and cheese in the pan.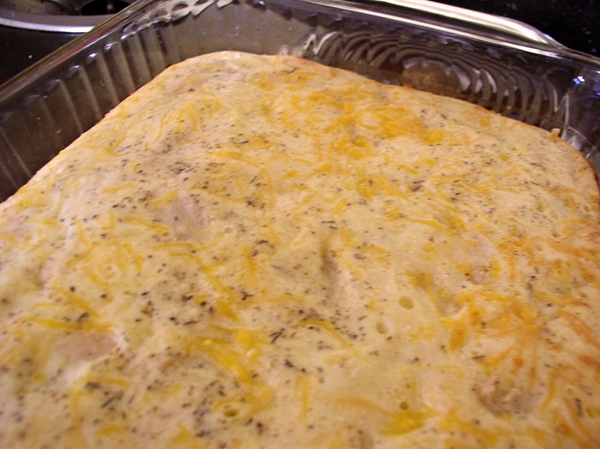 Bake for about 25 minutes in the preheated oven, or until bubbly and the batter isn't gooey.