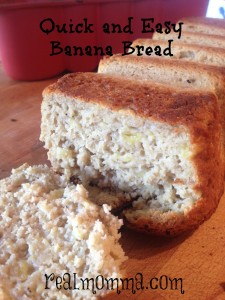 In our house we try to cut out processed foods and make recipes healthier so the Wonder Mill has been used frequently in our house to make some new and delicious recipes!  My favorite part is sneaking some healthier flours into recipes and the kids don't even notice!
This recipe is super simple and my daughter loves to help make it!  I have cut out the oil in the bread and use yogurt which makes it moist, delicious and makes it a little healthier.  The Quinoa Flour was so simple to make and adds extra moisture to the recipe!   Don't get me wrong banana bread is usually moist to start with but this gave it an extra little wow factor.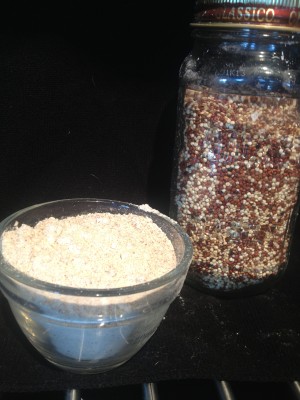 This recipe is my basic muffin recipe as well so I may be trying out some new mixtures for that.  We are loving all the flours we can make at home and use in recipes, it has made us bake more together as a family and that is simple priceless.
Easy Banana Bread with Quinoa Flour
Ingredients
2 cups Quinoa flour
4 tablespoons Stevia
½ teaspoon salt
1 tablespoon baking powder
¾ cup milk
½ cup yogurt - whatever kind you got on hand!
1 egg
2 ripe bananas, mashed
Instructions
Preheat oven to 425°F. Lightly grease a loaf pan.
In a large bowl, mix the dry ingredients, stir in the milk, yogurt, and egg just until dry ingredients are evenly moist. If you have kids helping don't worry about them getting over mixed, haven't had an issue yet. Fold in the mashed bananas. Pour batter into the prepared loaf pan.
Bake 45-60 minutes in the preheated oven. Top will be golden and toothpick inserted in the center of the bread will come out clean. Serve warm with butter. Delish.
Serve it up with some butter and coffee and your friends will be jealous when they come to visit!