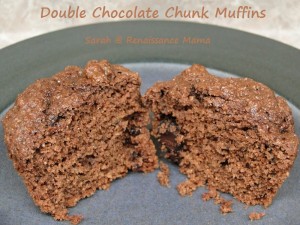 I love chocolate.  I love muffins too, and a chocolate muffin sounds like a fabulous combination.  You might be tempted to call this a cupcake (I slipped a couple of times and called it just that), but it's not sweet enough to be a cupcake.  It's just the right amount of sweet to be – a muffin.  So, enjoy a bit of chocolate yumminess in your morning!

Double Chocolate Chunk Muffins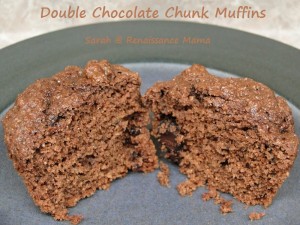 Author:
Sarah @ Renaissance Mama
Ingredients
6 tablespoons butter
1 cup semi-sweet chocolate chips, divided
2 cups whole wheat flour, freshly ground
⅔ cups organic cane sugar
⅓ cup of unsweetened cocoa powder, sifted
1 tablespoon aluminum-free baking powder
½ teaspoon baking soda
½ teaspoon sea salt
1 farm fresh egg
1¼ cups buttermilk
1 teaspoon homemade vanilla extract
Instructions
Grind your wheat grains in your grain mill!
Preheat the oven to 375° and line a muffin pan with 12 paper liners.
In a double broiler, melt HALF of the chocolate chips with the butter and stir until smooth. Remove from heat. (I use two pots together to create a double boiler. See picture below Instructions)
In another bowl or glass measuring cup, whisk together buttermilk, egg, and vanilla. Set aside.
Sift together all dry ingredients. Add the chocolate mixture and the buttermilk mixture and stir until just combined. Do not overmix. Add the chocolate chips and give one more quick stir.
Scoop evenly into 12 muffin cups and bake for 15-20 minutes, until a knife in the center of the muffin comes out clean.
My hubby added cream cheese to the top of his, just for a little something extra.  Enjoy!