Our 9 month old Beagle pup loves treats but I wanted to make her something from scratch so I have been scouring the net for months to find a recipe or bits and pieces to make up my own. 

This recipe uses Rice flour that I made using the grain mill. You will need a small cookie cutter approximately 1-1 1/2 inches. It can be a bone shape or any other shape you would like. I have a small heart on hand and that is what we used. They were just the perfect size for our medium sized dog. If you have a large breed you may want to use bigger.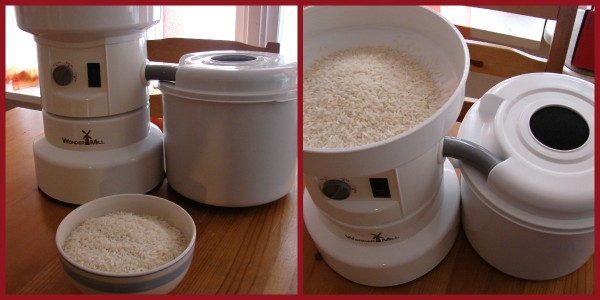 Super Easy Dog Biscuits
Ingredients:
1/2 Cup Whole Whe

at Flour 

3/4

Cup Rice Flour

1/4 Cup Rolled Oats

2 tsp Baking pow

der



6

Tbsp smooth natural peanut butter

1 Tb

sp of Molasses

1/2 Cup milk  
Instructions:

Preheat oven to

375 F 

In large mixing bowl mix together the flours, oats and baking p

owder. 

Add peanut butter, milk and molasses, mix

well. 

Form mixture in a ball and roll out between two pieces of parchment paper to 1/4 inch thickness (thicker for bigger dogs if you would like but then your baking time is increa

sed).

Bake for 20 minutes (this will also depend on your oven and thickness of treats

)

Cool on rack and store in air tight container. You can keep them in freezer or frid

ge. 

We made close to 65 treats but it will depend on size of

cutter and thickness.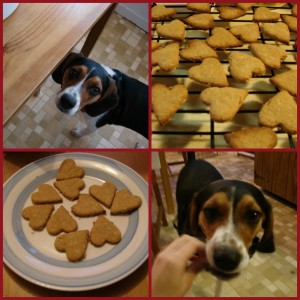 I hope your pooch will love these treats as much as our Molly does!