I just want to keep eating it and eating it and eating it. ~E, 11
I went on the hunt for a great applesauce recipe today. You see, I canned applesauce on a new stove yesterday and totally scorched a batch of it. Since it didn't taste horribly burned, just had some black specks in it, I decided to use it instead of throwing it away. I took a Cranberry Applesauce Cake recipe and completely changed it around to make it my own. It's changed so much you wouldn't recognize the original, which was a coffee cake.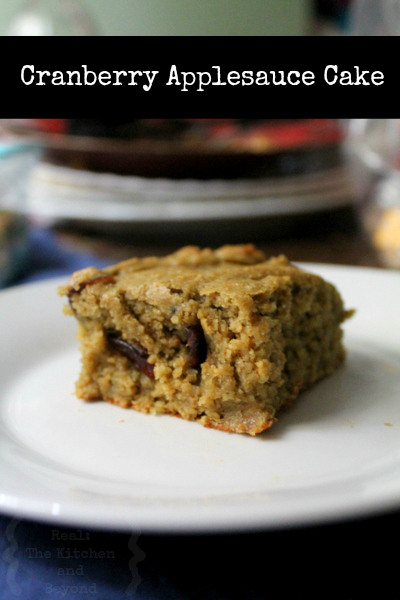 Something tells me we have winner with this dairy-free Cranberry Applesauce Cake. I like to have quick and easy allergy friendly recipes in my arsenal for entertaining purposes. From homeschool co-op to lunch dates, I love to have something that accomodates everyone. Usually it really isn't too difficult once we get rid of the "How will I ever skip dairy or gluten or nuts?" and the results can be just as tasty or better than the original. In this case we are filling the need to be dairy-free.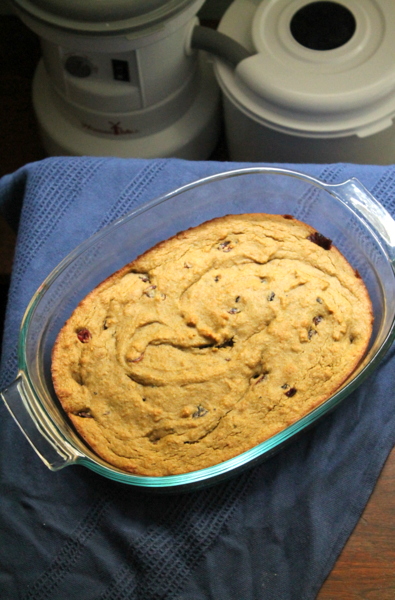 Cranberry Applesauce Cake is a modified recipe that uses avocado in place of butter and you would never know it if I didn't tell you. The cake turned out so incredibly moist and light. We couldn't stop going back for more and it was only a quick reminder that saved a slice for daddy.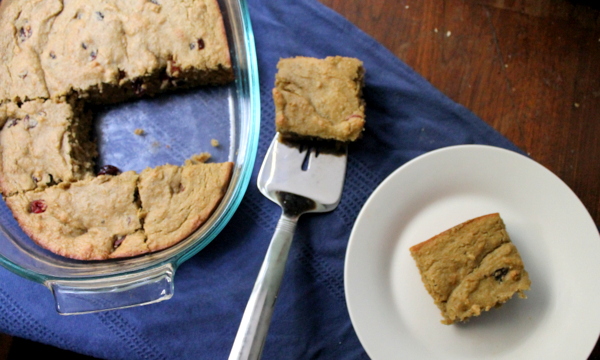 Go on, try it. I bet you won't even be able to tell. I especially love this recipe because the kids asked for seconds and thirds. Made with freshly milled whole wheat flour, a little sugar, and unsweetened applesauce, it is a special breakfast winner. 
Dairy-free Cranberry Applesauce Cake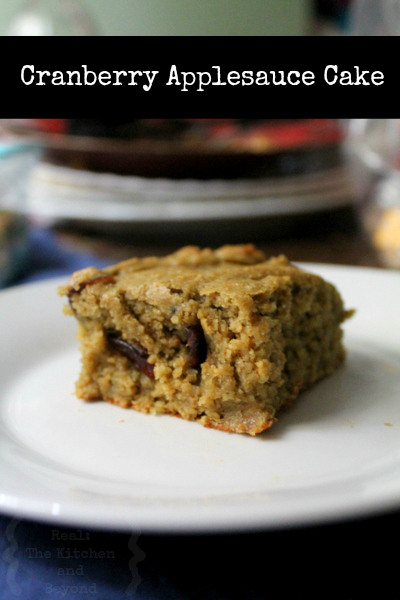 Ingredients
1¾ cups freshly milled whole wheat flour
½ cup sugar
½ cup avocado
1½ teaspoon baking powder
½ teaspoon baking soda
1 teaspoon ground cinnamon
1 teaspoon vanilla extract
2 beaten eggs
1 cup applesauce
⅓ cups dried cranberries
Instructions
Pre-heat oven to 375 degrees.
Mix dry ingredients.
Add mashed avocado and mix in until crumbly.
Add applesauce and eggs and mix.
Add vanilla and mix in.
Mix in cranberries.
Pour into greased 9 x 9 or 10 x 8 pan.
Bake 25-30 minutes, or until center is dry.