Good Day to you!
   I love coconut. In every form. To the point I wish I could live somewhere tropical so I could send a kid up a tree and bring me one fresh a couple times a day. *sigh*
   However, I make do with what I can come up with, here on the mostly frozen Minnesota prairies, and these luscious cupcakes are a perfect party dessert that are made even better with the addition of freshly ground whole wheat flour.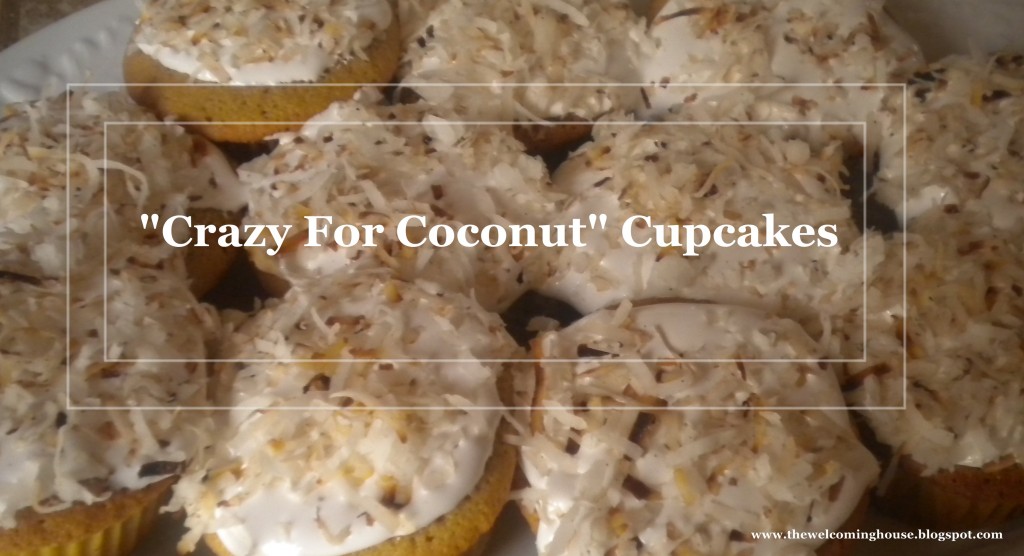 I was always told that you simply cant make cake, or anything really delicate, with whole wheat flour, and the Irish-Scotch stubbornness inside me decided that was an obstacle I would certainly overcome. I have tried during the Grain Mill Wagon Challenge to show you that are many ways to make fun and delicious desserts with whole wheat flour, just as you can make hearty breads, rolls, tortillas, and biscuits. Thank you for the opportunity to share my recipes with you, to drive you crazy, to make you lick your screen just because you couldn't help yourself. If you have been introduced to baking with whole grain because of my posts, then my mission is complete, and I thank you for reading.
   For my last entry in the Challenge, I present to you my "Crazy for Coconut" cupcakes, which have made their way to baby showers, birthdays,  potlucks, and one bridal shower for a special friend. They are delicious, beautiful, and hide a fun surprise deep in their little coconut cupcake hearts that is sure to win you some smiles, and delight from those who choose to eat them.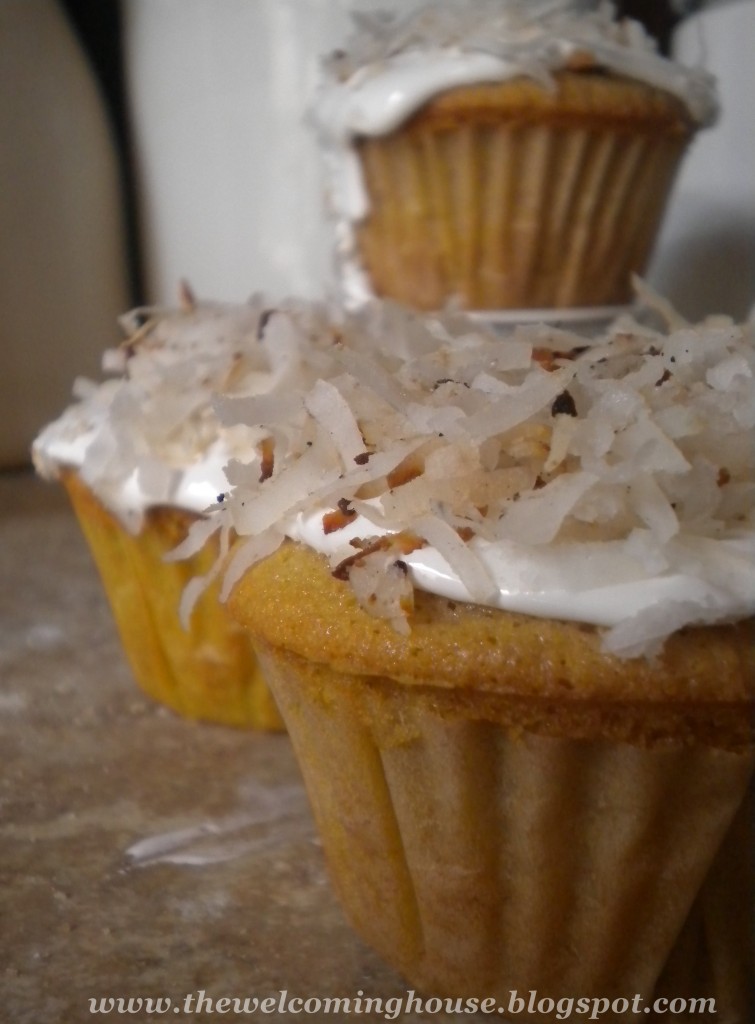 Now, on my blog, The Welcoming House, where I post almost daily, my readers are used to seeing recipes pop up at least once a week, on Tasty Tuesday. I believe in making most things from scratch, due to food allergies my kids struggle with, and just the cost savings compared to pre-packaged foods.
   This recipe is made from simple, home-made ingredients, and is so easy that my 12 year old Big Kid can make it as needed. The key to light and fluffy whole wheat based cupcakes is letting the mixer beat lots of air into the batter, and not jarring the cupcakes while they are baking…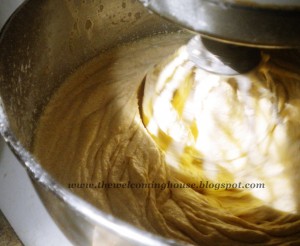 Please feel free to share, like or "pin" my recipes…and thanks for reading! 🙂
Batter for Crazy for Coconut Cupcakes:
3 1/4 cups freshly ground hard white Spring Wheat Flour
1 1/2 cups sugar
1 Tbs baking powder
1 Tbs cornstarch
1 tsp salt
*Blend these together really well in your mixer. To this add: 1/2 cup virgin coconut oil, 1 cup cold water, 1 tsp clear vanilla, 1 tsp coconut flavoring, and 3 eggs. Turn on low until everything is incorporated, then turn onto high speed, and begin to mix this until it resembles a typical store-bough cake batter. It will seem thin at first, but quickly begin to get a sheen and loft to it while mixing.
While batter is beating for 5 minutes, place liners into a cupcake baking pan. As you can see, mine are well loved after 15 years of marriage, and many cupcake batches later…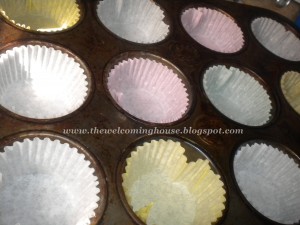 Once the timer tells you your 5 minutes of beating are up, spoon about 1/4 cup batter into each liner. Now for the secret ingredient, which you will need two of to complete a dozen cupcakes: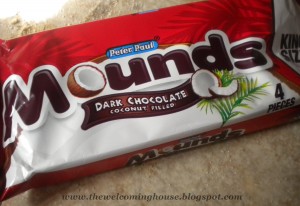 yep. I'm bad. Very, very bad. Why?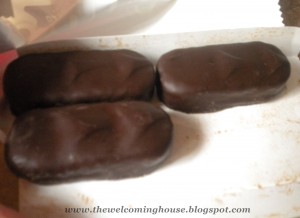 Because look at that. There are only three of those babies in there.
How did that happen???? Hmmmmmm.
  Cut each one of those little candy bars into two to three pieces. Two pieces tend to sink to the bottom, but cutting each one into three pieces just seems so….miserly….. so I cut them into two. Push each piece into a cupcake liner 1/2 full of batter.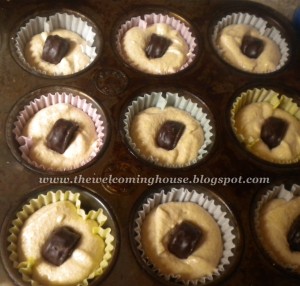 Here is another picture to make you drool. Cupcake batter and candy. Seriously, how can you get any better than that?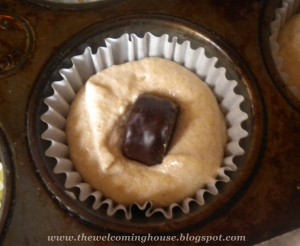 Next, take your teaspoon and fill it with batter, then top each piece of candy with a full tsp of cupcake batter, smoothing it around so the candy is completely sealed in.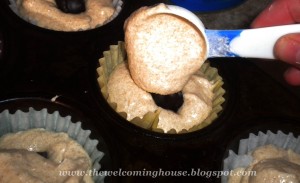 After this, bake in a 350* oven for 20-24 minutes each. Due to the whole wheat and the cornstarch, these are NOT like the ones you make from those ridiculously expensive boxes in the grocery store. Those are done in 15 minutes in my oven. Tops. And it takes two or three for people to know they are full. Not these. One of these will satisfy any sweet tooth, and fill you up as well.
   Once they come out of the oven, springing back when touched on the top (that is how you know they are done), then let them cool on a wire rack. The frosting is simple, and adds just a tiny touch of sweetness. I do not add a lot of frosting to these as I think they are decadent enough.
   Take one container of Marshmallow Creme, place in a mixer, and add 3-4 Tbs really Hot water. Gradually work your mixer up to high until it is a smooth, creamy thinner topping. On each cooled cupcake put a single Tbs of topping, allowing it to smooth out on the top of the cupcake.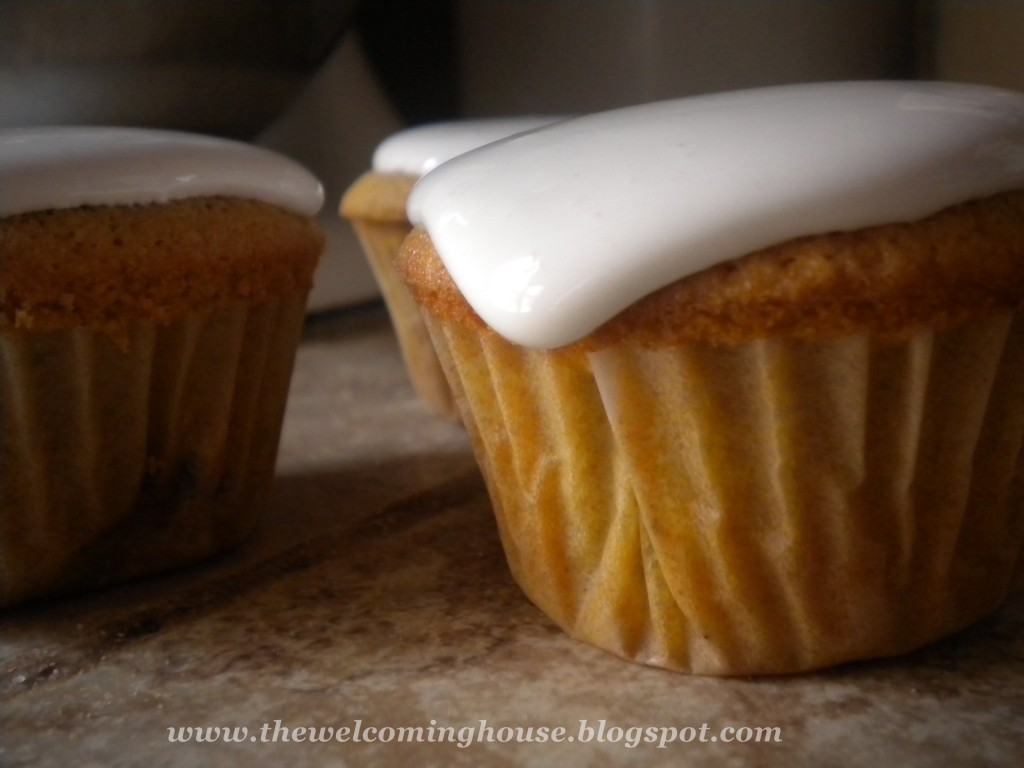 I forgot to mention that when the topping is beating I add 1 cup of sweetened shredded coconut to a pan and toast it, then set it aside for the final step.
   Once you have the cupcakes topped with a dollop of topping, just gently sprinkle with toasted coconut, pressing it lightly into the topping. Then take pictures, because they wont last long.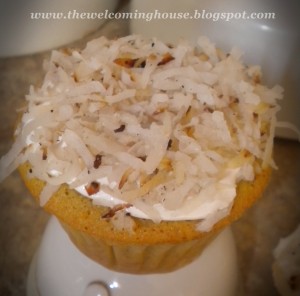 But if you want to see this on the inside, here is a shot just for those of you who HAVE to know what it looks like: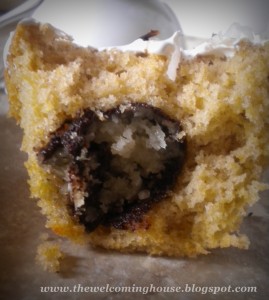 Yep. Coco-nutty-goodness all the way through. Good luck on resisting it, everyone.
    I want to thank the Grain Mill Wagon for this amazing opportunity, and for making me start to get all my scattered recipes together for this really fun challenge. It is to them that I owe at least forty dozen cupcakes for the use of the amazing WonderMill and how it has transformed the way that I bake.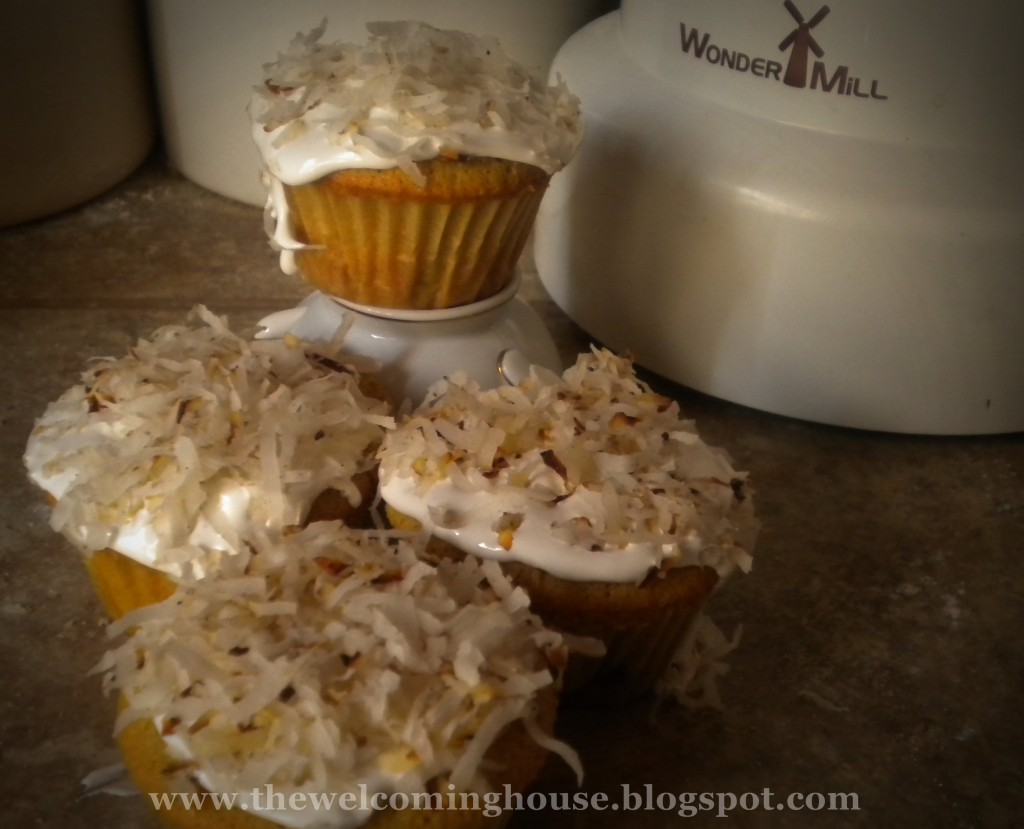 Hope you have a wonderful week!
Many Blessings to you and yours,
Heather @The Welcoming House Blog