WOW this breakfast or sweet bread has it all!! Cranberries, pecans, orange and honey, what's not to love about this?
Well, actually my husband is not a big fan. He calls this "woman" bread. hahaha guess it's not manly enough.
This bread is delicious when first made but I really like it the next day, take a slice, toast it and add butter. Man oh man, it is fantastic. I eat this with a cup of hot herbal tea and I'm set.
It is super easy and healthy. Maybe that is why he isn't a fan.
Healthy because of all the vitamins, antioxidants and fresh ingredients. Fresh like my freshly milled flour with my mill from GrainMillWagon. Have I told you how much I love this mill? It is the best!
Here is how I made the bread: (Oh I cheat, I use my bread machine)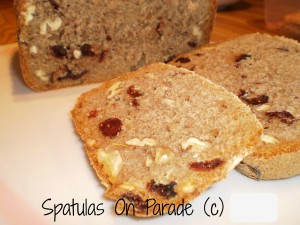 Cranberry Pecan Orange Honey Bread
1.5 loaf setting in the bread machine and FAST BAKE setting
1 cup warm water plus 2 TBSP
2 tsp oil (vegetable, coconut or olive oil)
4 TBSP dried cranberries
4 TBSP chopped pecans
1 TBSP orange marmalade
2 TBSP cranberry honey (you can use regular honey)
1 tsp salt
3 cups flour (whole wheat freshly milled is what I used)
1 pkg quick rise yeast
Place the ingredients in the bread machine in the order listed. set, leave alone, cool, slice and enjoy!
Dawn
Spatulas On Parade