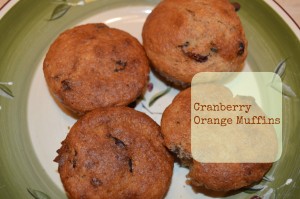 While attending a freezer cooking workshop, I picked up this recipe which never fails! These muffins are both delicious and nutritious, especially when made with freshly milled grains.
The highlights of this recipe are the grated orange peel and the generous amount of cranberries.
Not only for Thanksgiving, cranberries are amazing little fruits that I try to incorporate into our diet as much as possible. Packed with Vitamin C, fiber, manganese, and loaded with mega amounts of antioxidants, these tangy-sweet gems are a perfect addition to a healthy diet and have been used for generations to support heart and kidney health.
So whether you're looking for a healthy snack for your children or an easy breakfast to bake ahead of time, this recipe fits the bill!
This will yield about 18 muffins but they're usually gobbled up in less than 15 minutes in our home. Good thing the recipe is easily doubled or even tripled!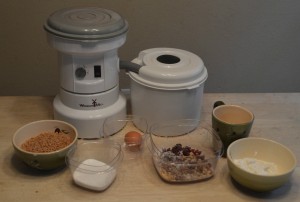 Ingredients:
1/2 cup of butter or extra virgin raw coconut oil
1/2 cup of honey or 1/2 cup of Truvia baking Mix.
1 egg
1/4 cup of orange juice
3/4 cup of vanilla yogurt (I prefer greek and think it adds a richer consistency)
1 tablespoon of grated orange peel
2 cups of spelt flour (or use flour of your choice)
1 teaspoon of baking soda
1 teaspoon of baking powder
1/2 cup of dried cranberries
1/4 cup of chopped pecans or walnuts (optional)
Milling spelt berries (Remember, the fresher the flour, the more nutrients you'll reap).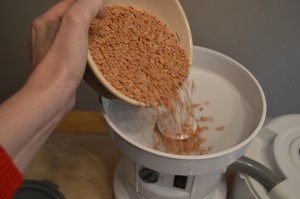 In our home, baking is a family event, especially with the grain mill. While they're not all seen in the picture, all are gathered around to watch the action. Here my daughter is adding the wet ingredients.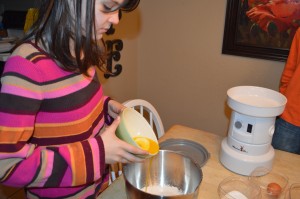 All blended and ready to add the cranberries and pecans. Carefully fold these last ingredients into the batter.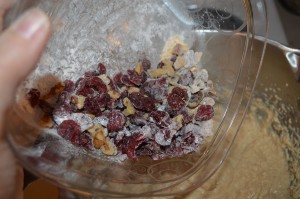 Ready to go into the oven.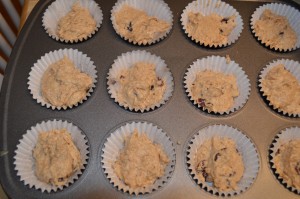 After baking at 350 degrees for about 20-25 minutes, these beautiful treats are ready to enjoy!
Look at that cranberry goodness!!! Yum!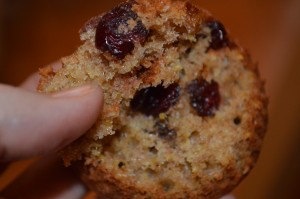 While this specific muffin was scarce on cranberries, the orange peel can be clearly seen. The combination of these flavors is amazing!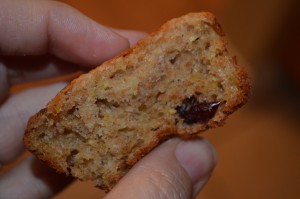 As mentioned above, this recipe is freezable. Bake several batches at once, freeze them, and then choose however many you'd like to serve, allowing them to thaw overnight or even during the day for a late-afternoon snack.