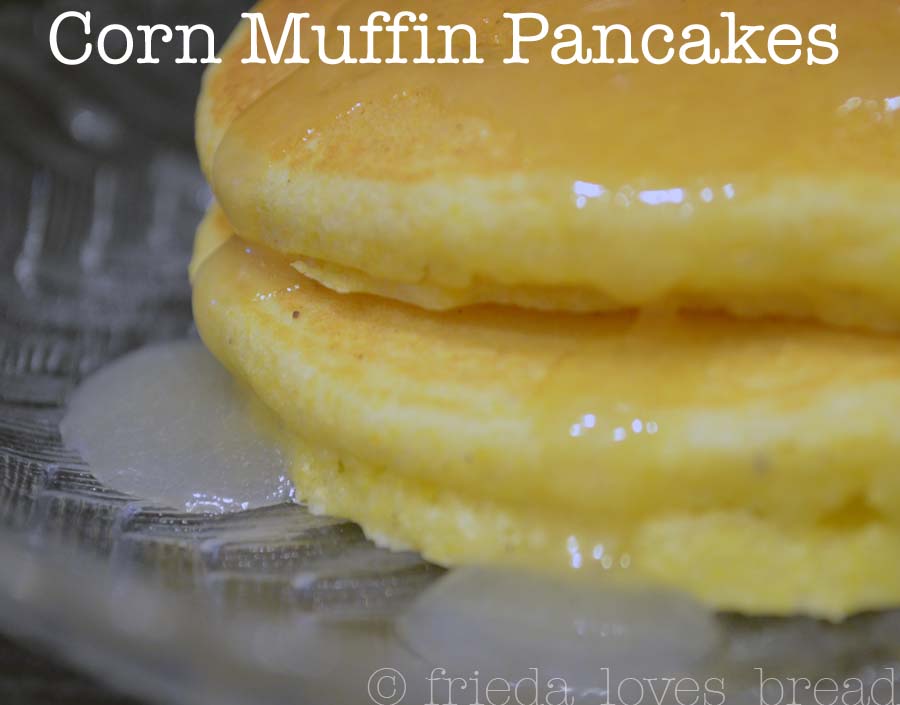 My husband has been making these pillowy and soft pancakes for years.
From a box.
You know, from the little blue and white box?
One day, I showed him how to put regular popping corn into our Wondermill …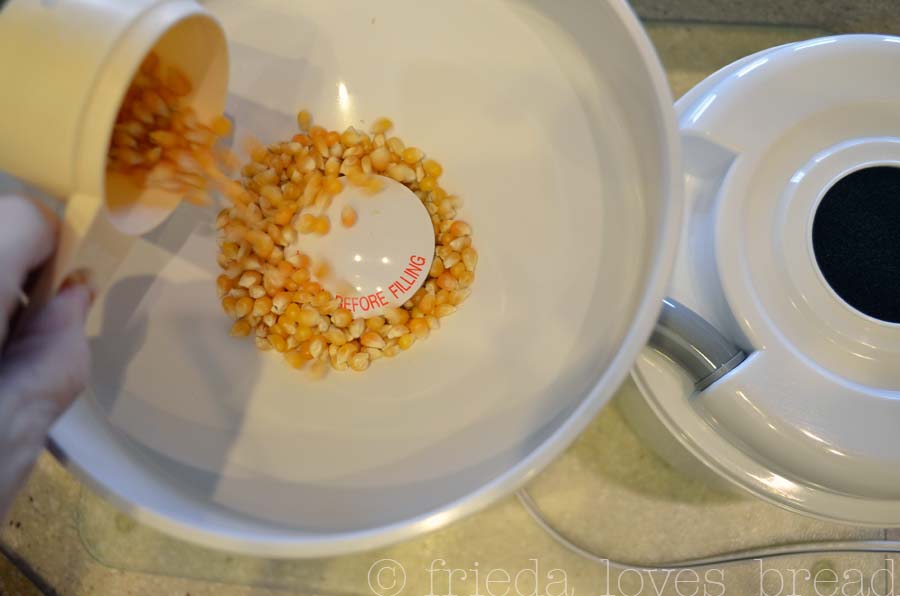 and make the freshest cornmeal, perfect for these pancakes!
He was amazed how it took such little time to make the cornmeal.  Plug in the grain mill, hook the canister to the mill, set it on the coarse setting, turn it on, pour in the corn and seconds later, you have fresh cornmeal!  That's it ~ easy peasy.  It was truly a forehead slap moment for him. 
He's thinking:    Why didn't I think of that?
These pancakes come together very easily, quickly and with very little clean up.
In a medium bowl, whisk together your all purpose flour, corn meal, baking powder, salt and anywhere between 2 tablespoons – 4 tablespoons of sugar.  You decide the sweetness level, as you will be topping these pancakes with something sweet.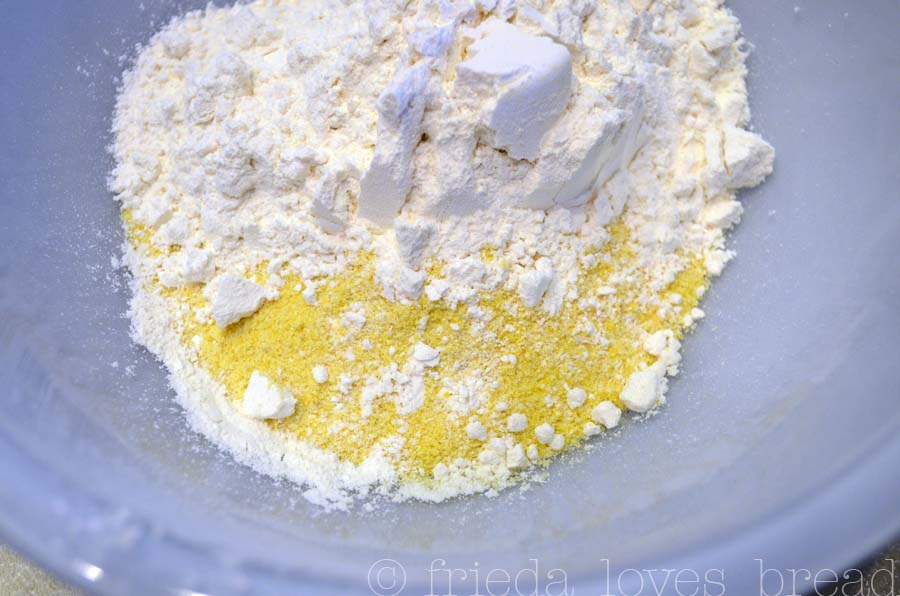 In a separate bowl or a large 2 cup measuring cup, whisk together your milk, eggs, and oil.  I like to use canola oil.  My boys like to use power tools, hence the immersion blender.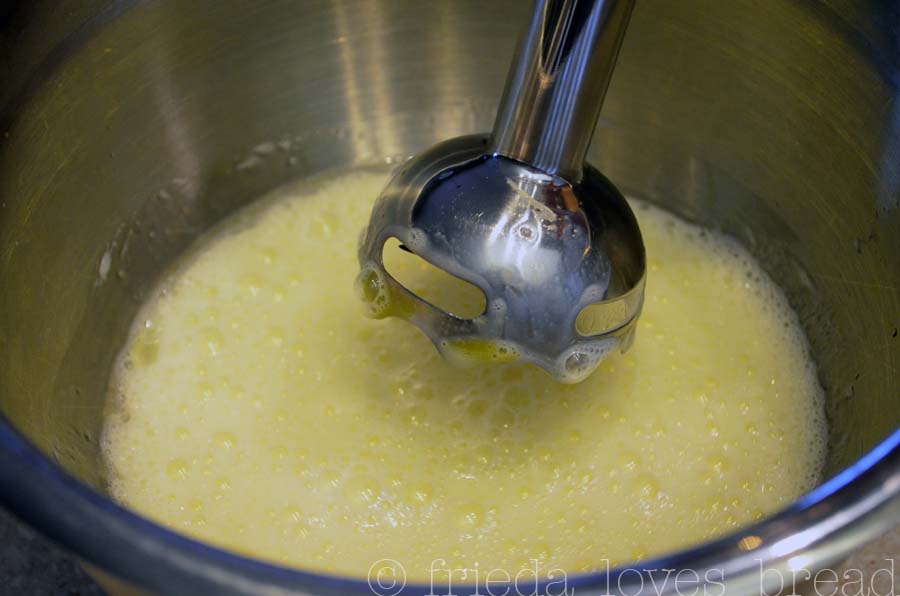 Pour the egg mixture over the flour mixture and stir till JUST combined. Do not over mix.
Tip:  let your pancake batter sit for at least 10 minutes.  This will help activate the baking powder and let the liquids absorb any flour clumps.
Preheat your griddle to 275° or your non stick pan on the stove top to med-high.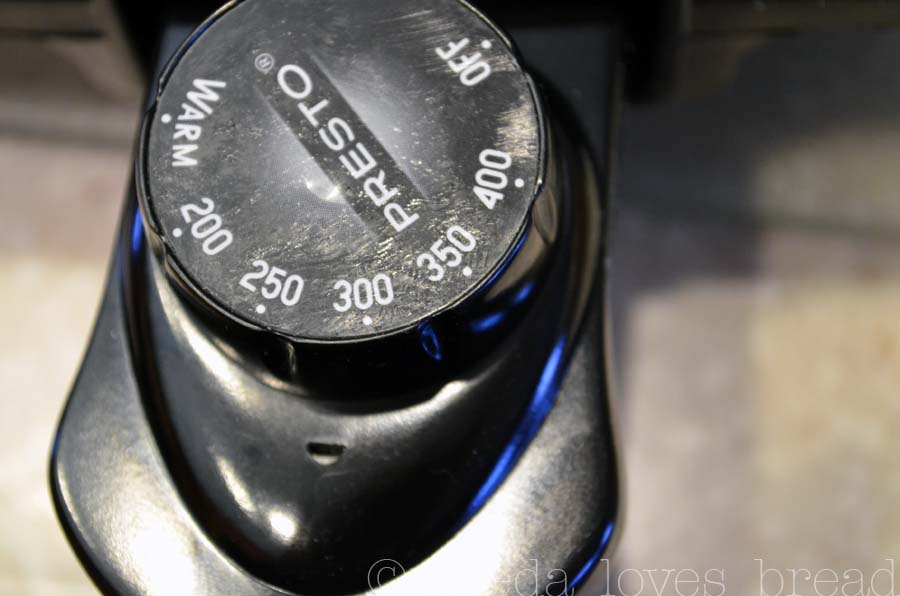 Lightly grease your griddle or skillet with some butter and pour about 1/4 c. of pancake batter for each pancake onto the heated skillet.
You should see bubbles forming and popping on the surface of your pancakes.  When the bubbles begin to slow down, it is time to check your pancake and see if it is ready to turn over …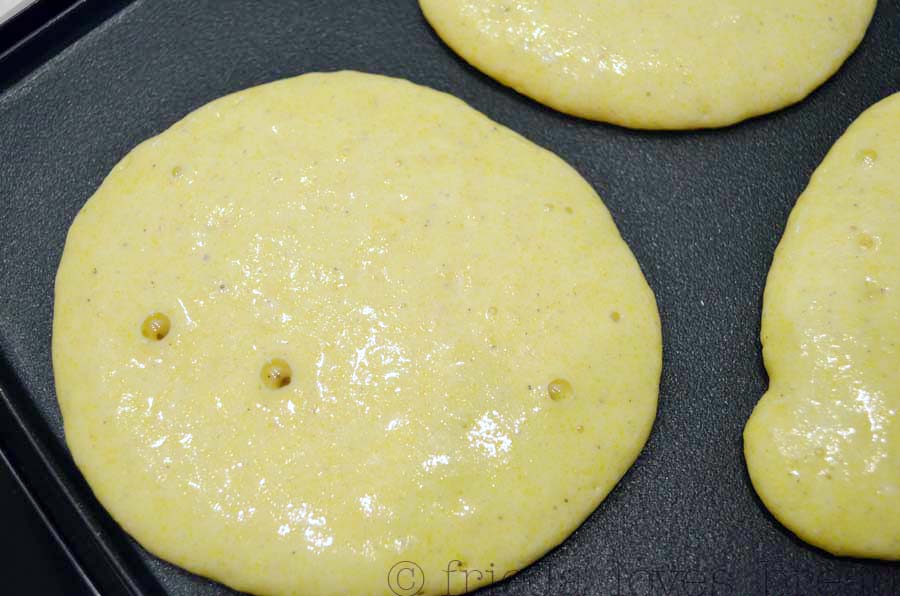 Using a flat pancake spatula, lift up the edge of a pancake.  The edge should be dry and a golden brown color … ready to flip!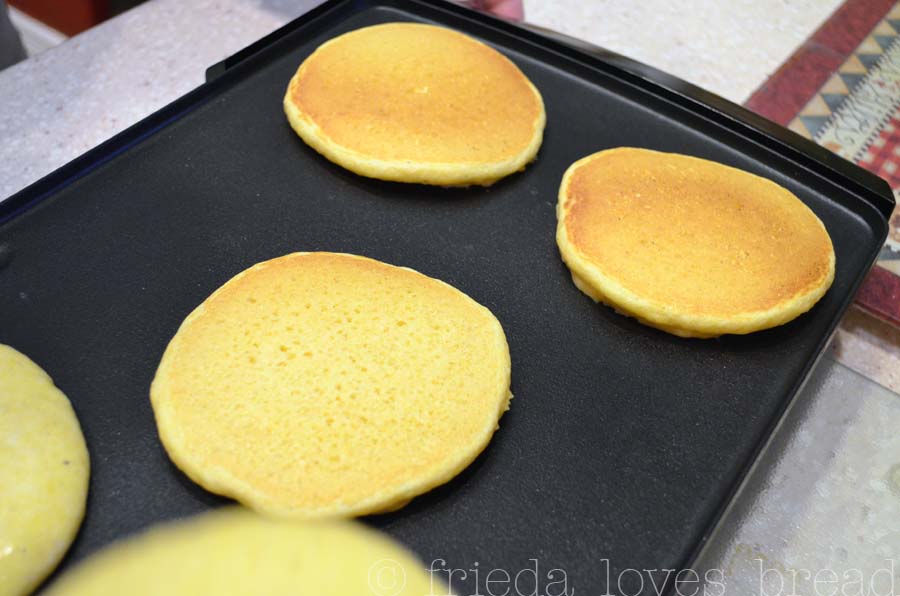 How do you know when your pancakes are done?  Lightly press the middle of your pancake with your finger.  It should "spring" back up like a cake, letting you know it is done cooking.
Top with butter, powdered sugar, fruit, or syrup of your choosing.
Here's to thinking "outside the box" and enjoying a fresh alternative to your breakfast!
Corn Muffin Pancakes
Ingredients
1 cup all purpose flour
1 cup coarsely ground cornmeal
2 – 4 Tablespoons granulated sugar (you decide the sweetness)
1 T. baking powder
1/4 t. salt
1 cup milk
2 eggs
1/4 c. canola or vegetable oil
Instructions
In a medium bowl, combine flour, corn meal, sugar, baking powder and salt.  Stir well
In a separate bowl, mix together milk, eggs, and oil.  Mix well.
Preheat griddle to 275° or put non stick skillet over medium-high heat on stove top.
Pour 1/4 cup batter for each pancake on heated griddle and cook till bubbles appear on pancake.  Check bottom of pancake for golden color and dry edges before gently flipping pancake over.  Cook till center of pancake springs back when touched.
Serve warm with butter, fruit or desired syrup.
Makes approximately 12 (4″) pancakes.