The other day, I was pondering what a good afternoon snack could be for a BBQ or an upcoming get together. Then it hit me – I would combine the amazing flavors of cornbread with my new mini muffin tin. But of course, any good BBQ snack will have some meat. Cornbread + mini-muffin tin + meat = Corn Dog Bites!
These snacks are amazingly simple to make. Even better was I not only got to use my home ground corn meal, but also my home ground flour, both courtesy of WonderMill's electronic grain mill.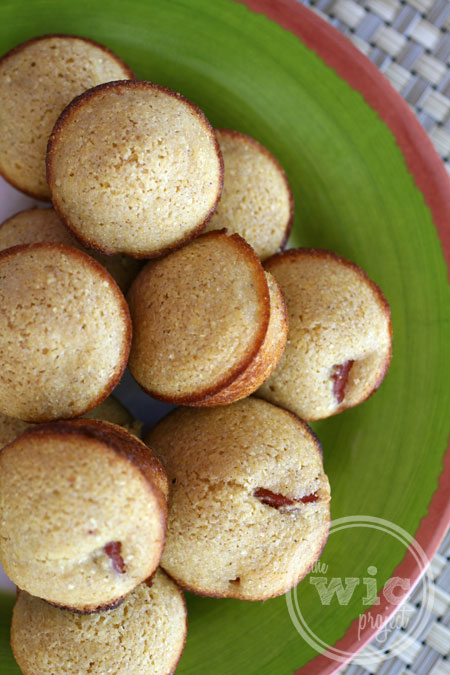 Corn Dog Bites
Based on a recipe from allrecipes.com.
1 (16 ounce) package hot dogs
1 cup all-purpose flour
1 cup yellow corn meal
1/2 cup white sugar
2 teaspoons baking powder
1 teaspoon salt
1 cup buttermilk
1 egg
1/4 cup vegetable oil
Directions
Preheat oven to 425 degrees F (220 degrees C). Spray 2 24-cup mini-muffin pans with cooking spray.
Cut hot dogs into 4 pieces crosswise and cut each piece lengthwise to make 8 pieces per hot dog.
Whisk flour, corn meal, sugar, baking powder, and salt in a bowl; stir in milk, egg, and vegetable oil to make a smooth batter. Stir chopped hot dogs into batter and spoon the mixture into prepared mini muffin cups.
Bake in the preheated oven until the corn muffins are lightly browned and set in the center, about 8 minutes.
First, you'll mix your dry ingredients together. Here's a shot of my home-ground corn meal and flour in the bowl.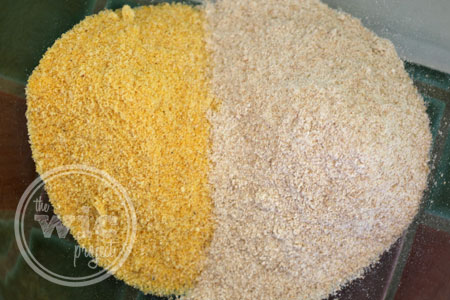 Next, add the liquid ingredients and mix together until smooth. Then add your chopped hot dog pieces. Your hot dog pieces might look smaller since I accidentally used bun-length hot dogs.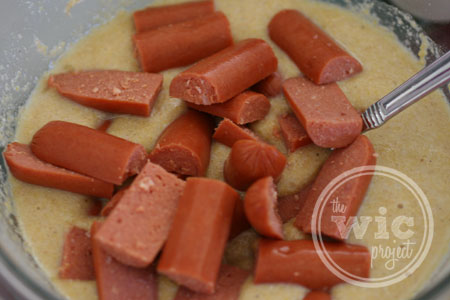 After everything is mixed together, spoon the mixture into your mini-muffin tins.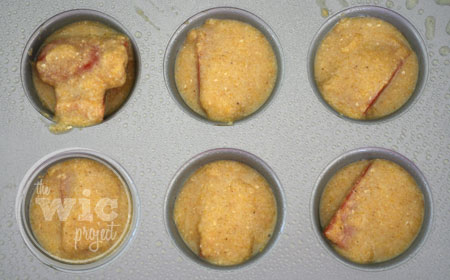 Then bake for 8-10 minutes. Set the timer at 8 and check until it's done. Allow the muffins to cool a little, but not too much – these are best served warm!