My husband had wanted to make a fermented corn bread like the one that his mother would make.  He had called his mom in Togo, West Africa for the recipe and after he talked to her he felt that it had too many steps to make, especially as he had never made it himself.
I still had some corn that I had milled from popcorn, so wanted to use them up.   So I went on a search for a recipe.  I found this recipe from Betty Crocker's 40th Anniversary Edition Cookbook that sounded good and adapted this recipe from it.  Hubby said this recipe was close to the one he remembered eating in Togo.  The only thing that they wouldn't have probably used was the cheese that I put in it.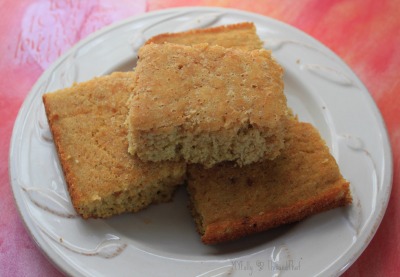 I did use fermented corn flour to make this recipe.  To make fermented corn flour you need to add just enough water to make it damp and let it sit for a few days in a covered bowl.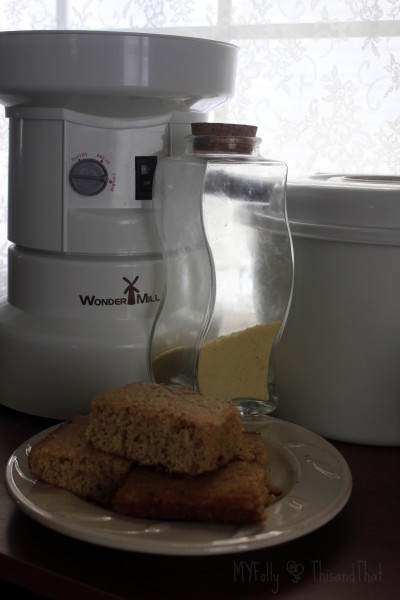 Corn Bread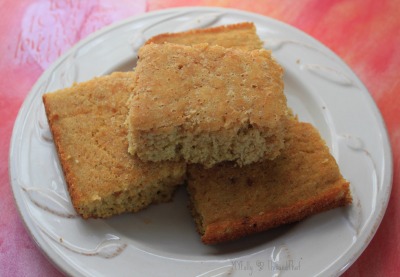 Corn bread made with fermented corn flour. Recipe adapted from Betty Crocker 40th Anniversary Edition Cookbook
Ingredients
1½ cup fermented corn flour (see note)
½ cup all -purpose flour
¼ cup coconut flour
1½ cup sour milk
2 tsp baking powder
1 tsp sugar
1 tsp salt
½ tsp baking soda
¼ tsp crushed red pepper
2 eggs
¼ cup shredded cheese
Instructions
Preheat oven 450 degrees.
Grease 9 X 1½ inch square pan
Mix all ingredients except cheese. Beat vigorously 30 seconds.
Add cheese and mix until well mixed.
Bake 20-30 minutes until golden brown. (Mine took about 24 minutes)
Notes
To ferment corn flour. Add enough water until flour is damp. Let sit in covered bowl for one - two days.
Recipe will work with regular corn flour that is not fermented.