For these muffins I ground both corn and wheat kernels into flour and used both (plus some other goodies) in my recipe.
My favorite thing about the WonderMill is that you can switch from grain to grain so easily. And the mill is quiet enough to use indoors, even with a 9-month old baby crawling around at my feet…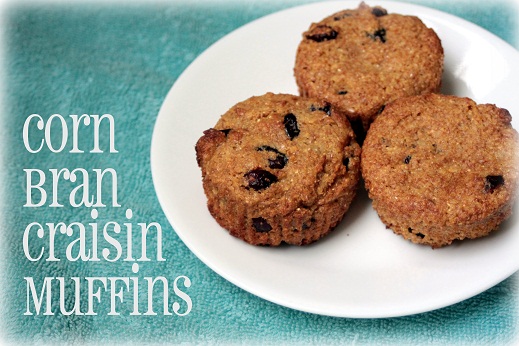 We don't eat snack foods at our house (at least not often) so our snacks have to be homemade. I found this recipe full of great healthy stuff for my kids to snack on:
CORN BRAN CRAISIN MUFFINS
makes 12 muffins
1 1/2 c. fine yellow cornmeal
1/2 c. wheat bran
1/2 c. whole wheat flour
1/2 t. kosher salt
1 t. baking powder
1 t. baking soda
1/2 c. craisins
1/4 c. vegetable oil
3/4 c. plain yogurt
1/4 c. honey
2 large eggs
1. Preheat oven to 400 degrees. Line a 12-cup muffin pan with liners.
2. Combine cornmeal, wheat bran, flour, salt, baking powder, baking soda, and craisins and stir until well mixed.
3. In separate bowl, combine wet ingredients and beat together gently.
4. Add wet to dry ingredients and stir just to combine.
5. Spoon batter into muffin cups and bake for 15 minutes.
These muffins are hearty with freshly ground corn and wheat flours, wheat bran, and honey. Yum!
recipe from Bob's Red Mill Cookbook