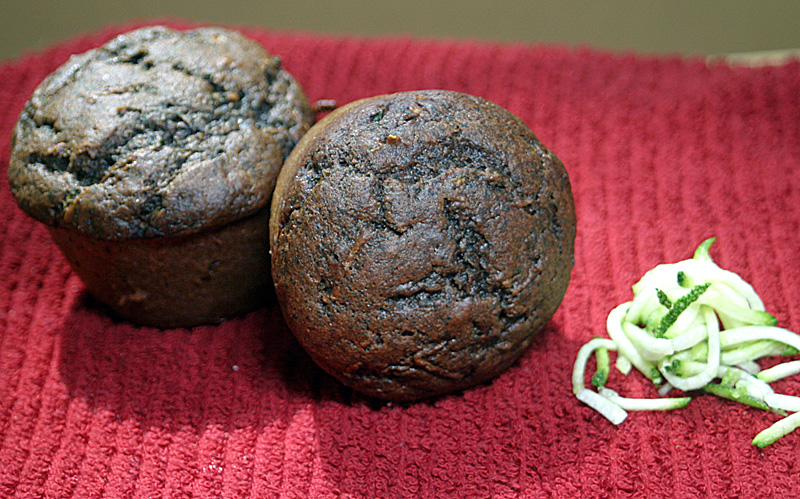 I've never milled my own grain previously, but thankfully I have made some delicious treats and breads with pre-milled flour. My Mom's Gooey Chocolatey Zucchini Brownies are one of my recent favorites. Incredibly gooey, chocolatey and delicious and jam-packed with zucchini goodness. So, how can I make them even yummier and even more nutritious?  Throw in some black bean flour!! What? Delicious and nutritious.
Bean flours were definitely what I am most excited about with my new WonderMill. Packing all that extra protein into our muffins, treats and meals will be excellent for our family. I'm a vegetarian, my husband is a meat-eater and our kids are undecided, so we take all the "easy" protein we can get!
I'm so super excited about my black bean zucchinitastic cupcakes and my first experience with my beautiful new WonderMill.
Chocolatey Black Bean Zucchini Cupcakes
Ingredients
2 cups shredded zucchini
2 cups flour (I use half whole wheat white and half black bean flour)
3/4 cup honey (agave or sucanat for vegan)
1/3 cup cocoa
1 teaspoon salt
1 1/2 teaspoons baking soda
1/2 cup applesauce
2 teaspoons vanilla
2 eggs (or egg substitute)
Directions
Preheat oven to 350.
Mix all ingredients well. Pour 10-12 muffin tin wells.
Bake at 350 for 25-35 minutes.
The Results
Oh my goodness! I absolutely LOVE LOVE these muffins. And the kids loved them, too. You can't even really taste the black beans at all, but the fact that all that protein is jam-packed in there is so satisfying. This is an incredible treat as  vegetarian breakfast since it has all four food groups in it. I cannot wait to experiment more with bean flours.