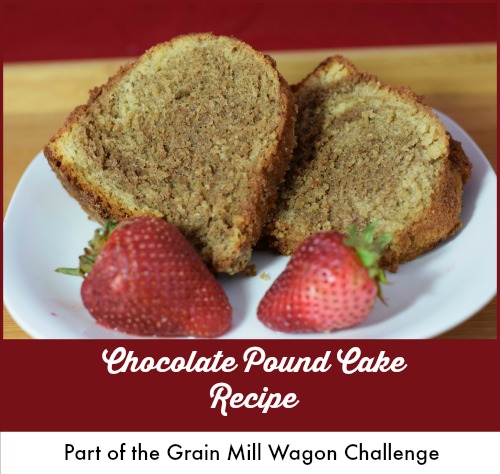 For the past week, I have had a blast learning how to mill my own flour and experimenting with a variety of recipes. So far, I have loved everything I have made with my own freshly milled flour. The only thing I hadn't made until this point was a cake.  I was determined that we needed something nice and sweet in the house, so I started doing inventory in our fridge and pantry to see what items we had for a homemade cake. After seeing how much butter we had in the house, I knew exactly what to make – a pound cake!
Why a pound cake? For one, it is one of those cakes that is perfect for just about any occasion. I used to regularly make these cakes when I went to work functions or I was going to a pot luck. It always went over well and since it is so rich, a little goes a long way, making it the ideal cake if everyone just wants a small piece (and maybe another small piece, after…). Of course, if you want something a bit sweeter, you can always dust or decorate the cake with powdered sugar.  Just make sure that you sift your flour before you start baking, to make sure the cake isn't too dense. This is something I have found is a very common mistake with people who make their own cakes and pastries with their own milled flour. This makes sure that you aren't using too much and ruining your recipe. Remember, you can always add more flour but it's difficult to take it back out!
Hopefully all of you will enjoy this awesome recipe. After making this cake with my own fresh flour, I don't think I can go back to using store bought flour again! Feel free to tell us what you think of this recipe and hope you enjoy it!
Chocolate Pound Cake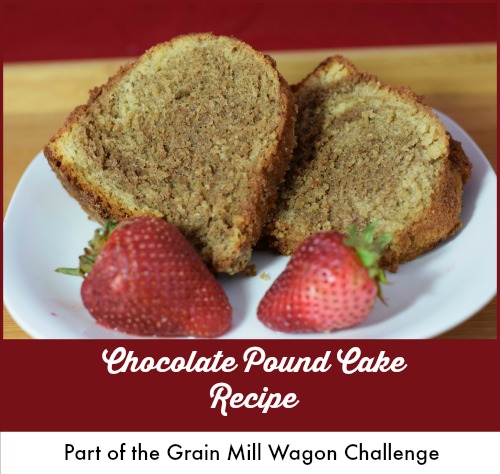 This cake is a great choice for pot lucks and family functions. It is rich, chocolatey, and easy to cut into small slices for everyone!
Instructions
Preheat the oven to 350 degrees.
Grease and flour your Bundt cake pan. Set aside.
Grind your flour in the Wondermill Grain Mill.
Mix the baking powder with the flour and set aside.
With a stand or hand mixer, cream the butter and sugar.
Add the vanilla and eggs to the butter mixture.
Start slowly adding the flour to the butter mixture. Do this at a low speed to avoid a mess.
Break the chocolate in a microwave safe bowl and heat until melted. Set aside.
Pour half the batter into a greased pan. Mix the chocolate in the second half of batter and then pour on top the batter already in the pan.
With a spoon, very gently swirl the batter. This will create a marbled look in your cake.
Bake for an hour and 15 minutes. The cake will be finished when a cake tester comes out clean.
Let set for 15 to 30 minutes before removing the cake from the pan. Let cool before serving.