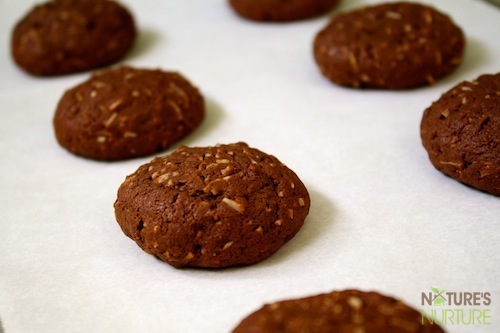 It's no secret by now, just how much I love coconut. I'm also notorious for changing up recipes to use coconut oil instead of butter, every chance I get. So when I had a craving for something chocolatey and coconut-ty, I went on a search and found this fairly easy recipe for chocolate coconut cookies. Only thing was, it used a whole cup of butter (!) and almost another cup of sugar! No way was that going to work for us, so I did my thing and adjusted it to work for our dietary needs.
Something new about this recipe with regards to the coconut oil substitution, was that it called for beating the butter and sugars together until light and fluffy. No worries there; just make sure your coconut oil is a little hardened (but still soft enough to mash up), so that it acts more like a coconut butter, instead of an oil.
I also switched out most of the sugar for my healthier sweetener of choice: raw honey. The combination of chocolate, coconut, and honey in this soft, chewy cookie is absolutely wonderful.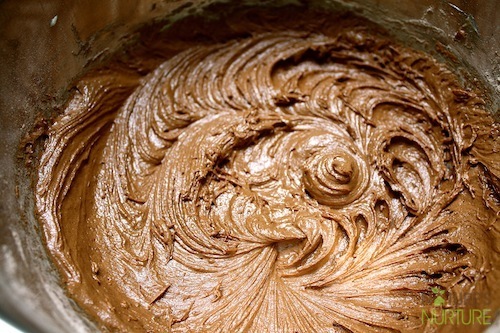 The flavors come together so nicely to make this tasty treat that we all loved. I brought some on our trip down to Florida last month and my mom loved them as well, especially since they're not overly sweet.
They bake up pretty quickly, so don't over bake them! Since the batter is dark, you can't go by looks alone, so just be careful because mine were just on their way to getting burnt; luckily I took them out in time. 🙂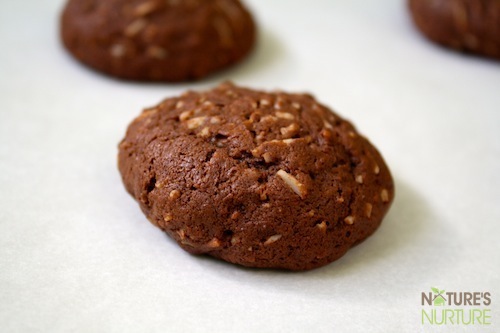 Chocolate-Coconut Cookies with Honey & Coconut Oil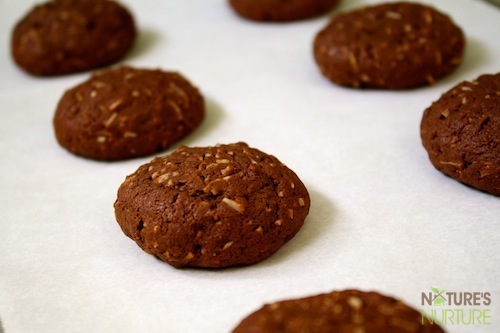 Author:
Sarah @ Nature's Nurture
A soft, chewy, healthier chocolate coconut cookie, made with coconut oil and honey.
Ingredients
¾ cup unbleached flour (freshly ground is best!)
¼ cup cocoa powder
½ teaspoon baking powder
½ teaspoon baking soda
¼ teaspoon salt
½ cup coconut oil, hardened
½ cup raw honey
¼ cup lightly packed brown sugar
1 teaspoon vanilla extract
1 large egg
¾ cup coconut flakes
Instructions
Preheat oven to 350 degrees F. Cover 2 trays with parchment paper.
Comine the flour, cocoa powder, baking powder, baking soda and salt in a medium bowl and whisk well.
Add the coconut oil, honey and sugar to a large bowl and beat for a few minutes, until light and fluffy. Add the vanilla and egg and beat until incorporated.
Slowly add the flour mixture, beating until well combined. Add the coconut flakes and mix by hand until fully incorporated.
Using your hands, roll the dough into golf-size balls and drop the tray, leaving at least 2 inches between each ball. Flatten them with a fork in a crisscross pattern (like a traditional coconut cookie), and bake 11-13 minutes. Let cool on the tray 5 minutes.