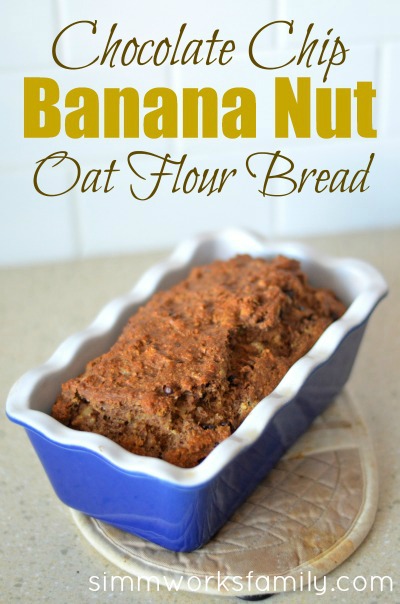 Banana nut bread is by far my favorite quick breads to make at home. Not only is it delicious for breakfast, it also serves as a mighty tasty dessert.
And, as my daughter calls it, "nana toast" is a huge hit with the kids. Making a loaf for playdates or get togethers gives us an easy go-to dish that'll please a crowd.
This chocolate-chip banana nut bread is healthy, hearty, and filled with sweet goodness. You can omit the agave if you'd rather just enjoy the sweetness from the bananas and chocolate chips.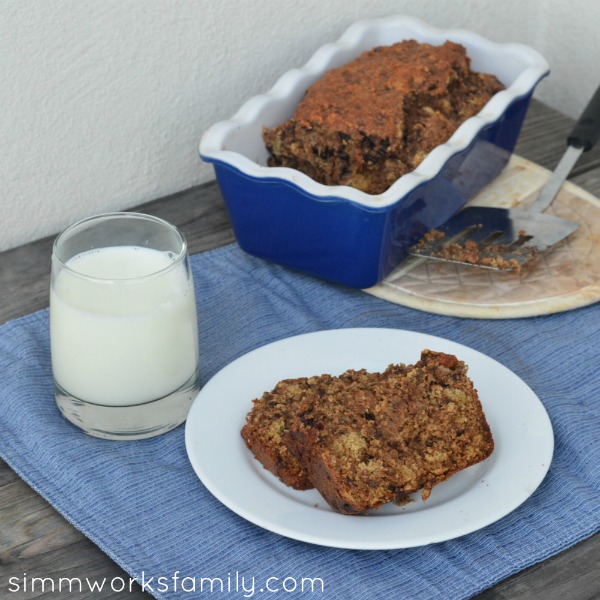 Chocolate Chip Banana Nut Oat Flour Bread
Ingredients
3 cups oat flour
2 teaspoons baking soda
½ teaspoon salt
¼ cup coconut oil, melted
4 large eggs
2 very ripe bananas, mashed
2 tablespoons agave syrup or honey
3 teaspoons vanilla
3 teaspoons cinnamon
½ cup walnuts, chopped
½ cup mini chocolate chips
Instructions
Preheat the oven to 325.
Combine the flour, baking soda, and salt in a medium bowl.
In a large bowl, whisk together the coconut oil and eggs.
Mix the flour mixture into the oil and eggs with a spatula and stir until blended.
Add in the mashed banana, vanilla, cinnamon and agave. Fold in the walnuts and chocolate chips.
Pour batter into a greased loaf pan. Bake for 40-50 minutes or until a toothpick comes out clean.