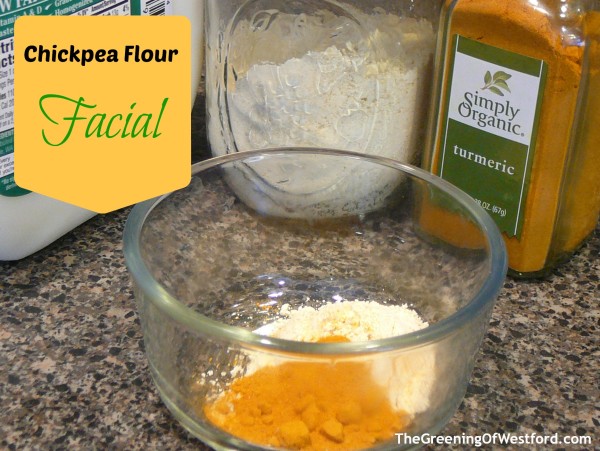 You may not think about using various flours or grains as part of your skincare routine, but they can be a great resource.
I have been experimenting with homemade skincare for a while now.  I was so excited when I could start experimenting with chickpea flour.  It has been used in India for centuries!
Chickpea flour makes a fabulous facial and exfoliant.  Even better when you can grind it fresh!
Facial
2 tsp freshly ground chickpea flour
1 tsp turmeric powder
milk, sour cream, yogurt or almond oil (enough to form a paste)
Use equal parts chickpea flour and turmeric
Add enough milk, sour cream, yogurt or almond oil to make a paste.
Smooth all over your face and leave for 10 – 15 minutes.
Gently scrub in an upward motion when removing the facial to exfoliate.  Rinse with warm water.
NOTE: Turmeric stains!  Wear something you don't care about.  It didn't stain my face when I used this, but I have heard of other people having issues so try a small patch first.
Using almond oil instead of the milk products will create a facial that is a more hydrating and good for dry skin.  While the chickpea flour will exfoliate your skin, the turmeric is thought to be anti-bacterial and anti-aging.  Great for mature or acne prone skin.