My hubby, bless his heart, he's a real Southern, Meat-'n-Taters kinda man. I could have a simple salad and be satisfied, but he loves a good, hearty meal for supper. Especially if it involves red meat and something smothered in gravy. Chicken Fried Steak is one of his all-time favorites, and is an easy go-to when I want to make a real crowd pleaser. I love it 'cause it's fast, easy, inexpensive, and even my pickiest kiddos will devour it.
Battering a round or cubed steak with just the right amount of flour and the perfect blend of seasonings, and frying it up in a light oil is a great way to turn a simple chunk of cheap meat into a 5-star dish. Be sure to serve it over a mound of steaming hot mashed potatoes, topping it all off with a generous drizzling of gravy!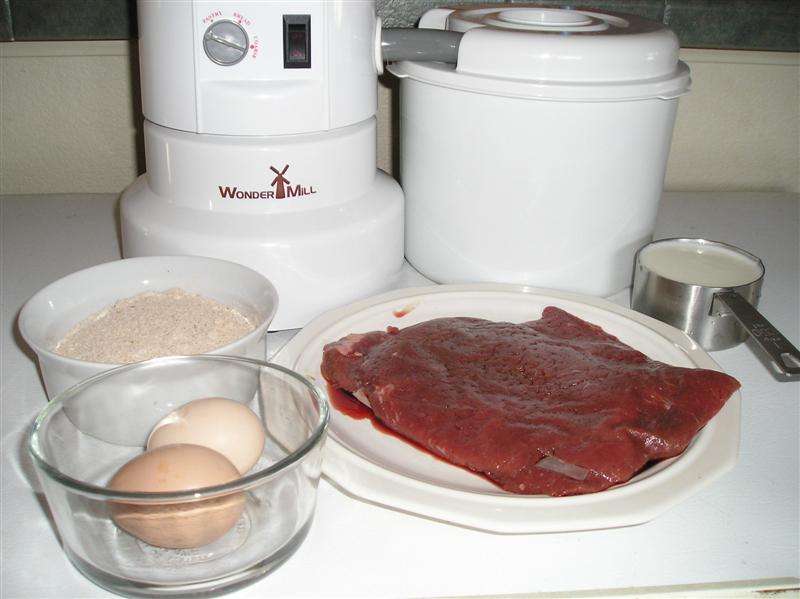 Chicken Fried Steak & Gravy
(Originally from Food.com)
Oil for frying
1-1 1/2 lbs round or cube steak, cut into strips
1 cup flour (I used hard white wheat)
1 Tbsp. salt
1/2 Tbsp. celery salt
1/2 Tbsp pepper
1 Tbsp dry mustard
2 Tbsp paprika
1 Tbsp garlic powder
1/2 tsp ginger
1/4 tsp thyme
1/4 tsp sweet basil
1/4 tsp oregano
2 eggs
1 c. milk
Gravy
1/4 c. flour
salt and pepper
2 c. milk
2 Tbsp pan drippings
1. Pour enough oil into a large skillet to fill it 1/4-1/2 in. deep, and heat just under medium.
2. Mix the flour with seasonings (salt through oregano), and pour mixture into a shallow dish.
3. In a small bowl, beat the eggs, then stir in the milk. Pour the mixture into another shallow dish.
4. Take each strip of meat one at a time, and dip it into the flour mixture, coating both sides. Then dip it into the egg/milk mixture, then back into the flour for a final coat.
5. Place battered meat into heated oil in frying pan and fry until browned, about 8 min. Turn the piece over and cook for another 5 min. or so until both sides are nicely browned. Add more oil as needed.
6. Remove to a plate and keep covered and warm until all pieces are cooked.
GRAVY
Retain about 2 Tbsp of the pan drippings, plus any bits of meat in the skillet, and add the flour, seasonings, and milk. Whisk the mixture over medium heat until the gravy thickens to the desired consistency. Salt and pepper to taste.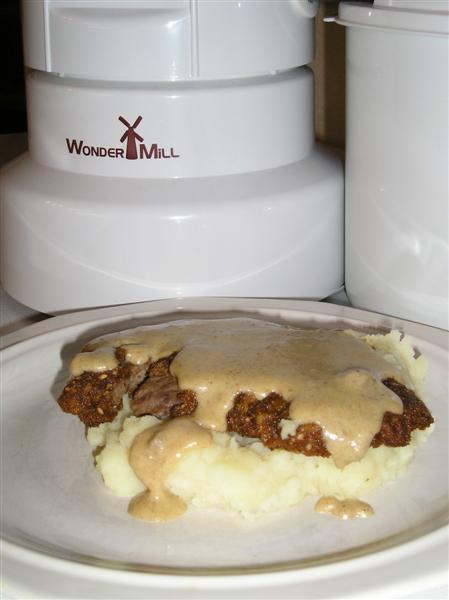 And there you have it. A warm, stick to your ribs kinda meal that the men folk are sure to love.