I'm from the South, so you know that cornbread is a pretty regular thing around here.  On top of that, I've always loved the idea of incorporating more into a cornbread.  Here, we add onions, bell peppers, bacon, and cheese to a basic cornbread recipe to make something that you almost feel guilty about eating!  For me, the best part is that every bite is a little different.  One bite might have a bit of chewy bacon, one might be sweeter from the onion, and another might have that little bite from the pepper.  Whatever it is, you will definitely want to keep eating this!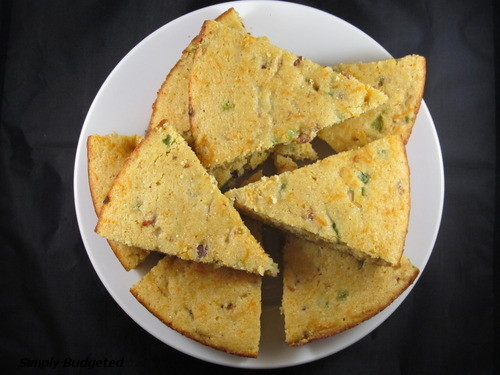 Cheesy Bacon Cornbread
Ingredients
4 strips, thick-sliced bacon
1/4 Cup onions, finely diced
1/4 Cup green bell pepper, finely diced
1/8 tsp salt
1/4 tsp black pepper
1 Cup cornmeal
1 Cup flour
1/2 Cup white sugar
1 1/2 tsp baking powder
1/4 tsp baking soda
1 Cup buttermilk
1/2 cup (one stick) melted butter
2 eggs, lightly beaten
1/2 cup cheddar cheese
Directions
Heat oven to 375.
Over medium-high heat and in a cast-iron or heavy bottomed skillet, cook bacon until crispy.  Place onto paper towel lined plate to drain.  When cool enough to handle, chop finely.
Using the bacon grease in the skillet, cook the vegetables with the salt and pepper until tender and the onion just begins to brown.  Set aside.
While the vegetables are cooking, combine next 8 ingredients (through eggs) in a mixing bowl until dry ingredients are thoroughly moistened.  Add vegetables, bacon, and cheese to batter and return it all to the cast-iron pan.  Bake for 20-25 minutes or until a toothpick inserted near the middle comes out clean.  Remove from pan and allow to cool 5-10 minutes before slicing and serving.
If you do not have a cast-iron or heavy-bottomed skillet, just cook everything in what you have, combine it all, and pour into a greased 8X8 baking dish.  The baking time should be about the same.  Enjoy!!