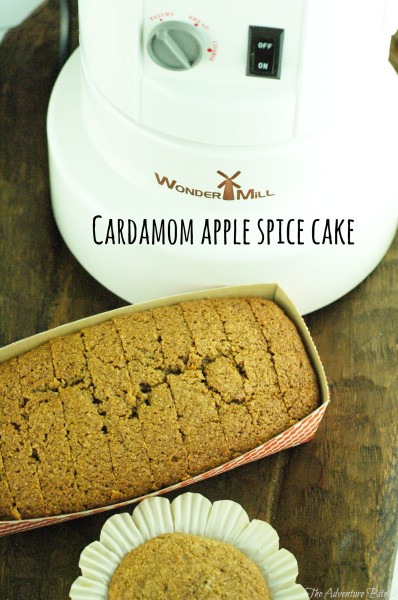 Fall is here! In the south where we live, fall is just coming into full force with the crisp bite of the wind and the beautiful leaves begin to turn every vibrant shade of the sun. It's my favorite for lots of reasons…boots, scarves, snuggly fires and big steamy cups of Chai.
But not the least of these reasons is that my birthday falls on the first day of fall. Year after year when the school year would start, my mother would ask me what I would like for my party and year after year I would request my mom's applespice cake.
Having grown, married, moved completely across the country and birthed two children of my own, I miss the days when with a simple request I could have this cake magically appear. This time instead I wrangled a wild 2 year old who stood terrified and then mesmerized as we milled the flour for this cake with our WonderMill. We mixed and poured and anxiously, complete with melt-downs, waited for the "uffins" to be finished. Then we slathered butter on them and enjoyed the work of our hands together.
I wanted something that tasted like Chai so this recipe is a lot of what I loved about mom's recipe, with just enough new twists to make it mine. That's how most of the things in my life are these days it seems. Guess she had a pretty good thing going 🙂

Cardamom Apple Spice Cake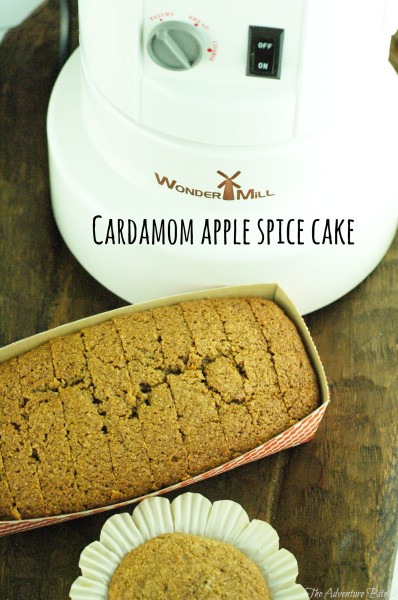 Author:
Dani Meyer at The Adventure Bite
A spiced fragrant sweet cake or muffin batter. Smells and tastes are reminiscent of a spiced chai.
Ingredients
½ cup butter
1⅓ cup sugar
2 eggs
1 tsp baking soda
½ tsp cream of tartar
2 cups fresh milled flour
2 tsp cinnamon
2 tsp nutmeg
1 t ginger
½ tsp cloves
1 tsp cardamom
¼ tsp salt
1½ cup applesauce
Instructions
Preheat oven to 350 degrees.
Cream butter and sugar. Add eggs.
Add flour and spices. Mix gently.
Heat applesauce and add to mixture.
Pour into greased muffin or loaf pans.
Cook 20-25 min muffins. 35-40 min loaf pans. Til toothpick comes out clean.
Makes 2 large loaves.