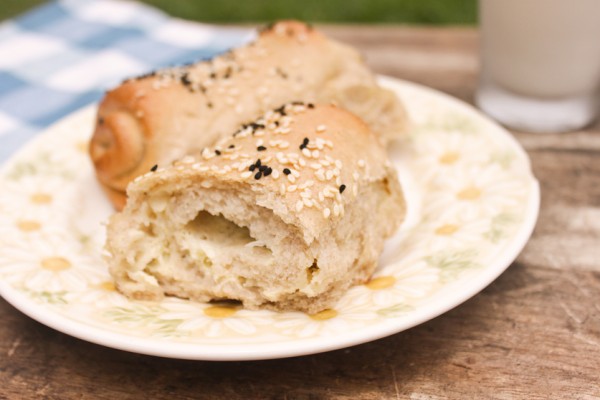 Ever since I received my new kitchen toy from Grain Mill Wagon, I have been preoccupied with thoughts of grinding. My eyes search different grains every time I enter a grocery store and I have accumulated quite a selection of prospects. My newest acquisition was toasted buckwheat, a plant that has more in common with sorrel and rhubarb than wheat, contrary to its deceiving name.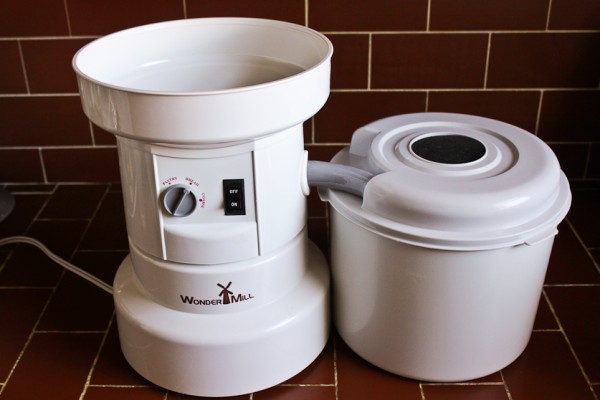 I have never eaten buckwheat while growing up in Serbia, even though Eastern Europe is the main producer, along with China. But, we did not eat oats, either, and I learned to love a steaming bowl of steel-cut oats with a touch of brown sugar and some dried fruit. I am curious by nature and a hedonist by choice, so experiments with culinary ingredients make me happy.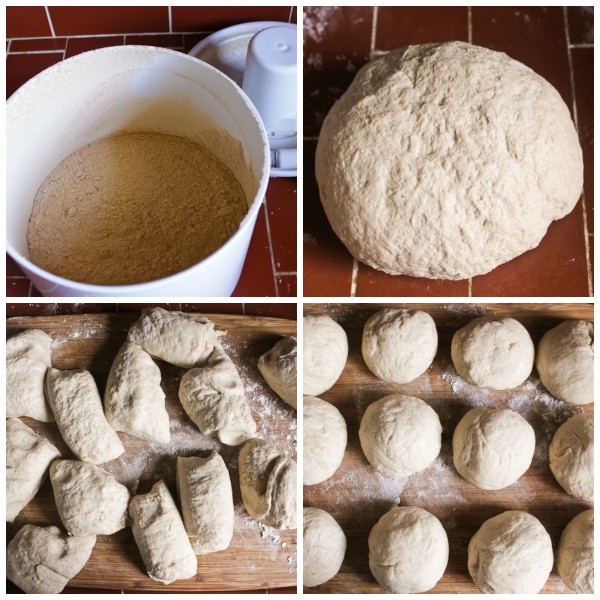 I chose to make rolls even though I did not know what to expect from adding freshly ground buckwheat flour. Its aroma was robust and nutty, and texture grainy. It colored the dough taupe and its skin added a few speckles of chestnut throughout. But it rose beautifully and I encountered no problems while shaping the rolls.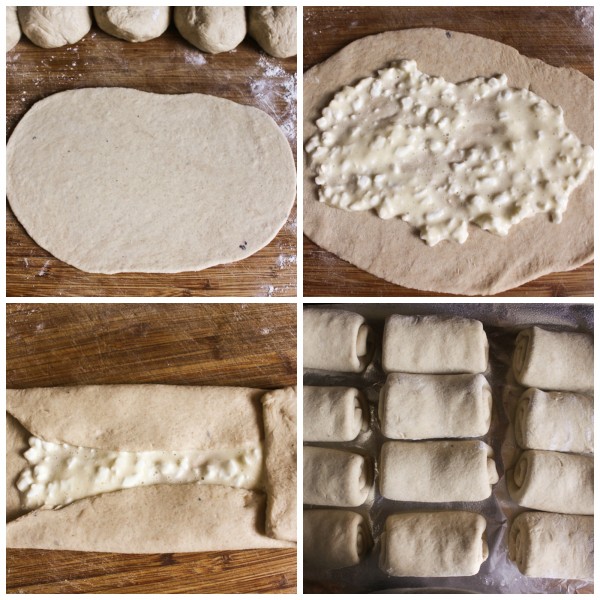 I had a baggie of nigella seeds I bought at an Indian store a while back and thought that their exotic taste would complement the bold notes of roasted buckwheat. I sprinkled them on top of the rolls along with sesame seeds and I was smitten by the aroma wafting from my oven while the rolls were baking.
I loved these rolls. My girls loved them. My neighbors loved them. My octogenarian friend who grew up in Oklahoma loved them. Even if you are not adventurous and daring, I promise you that buckwheat will charm you.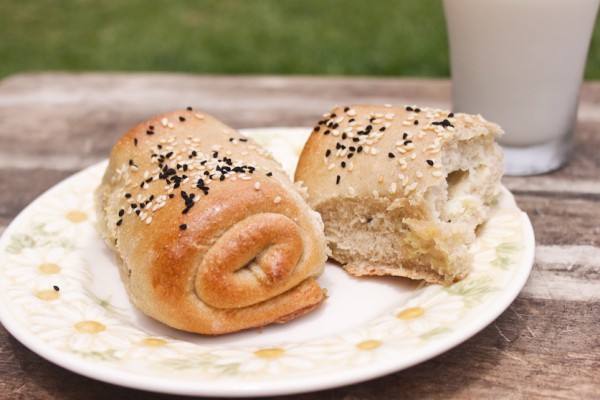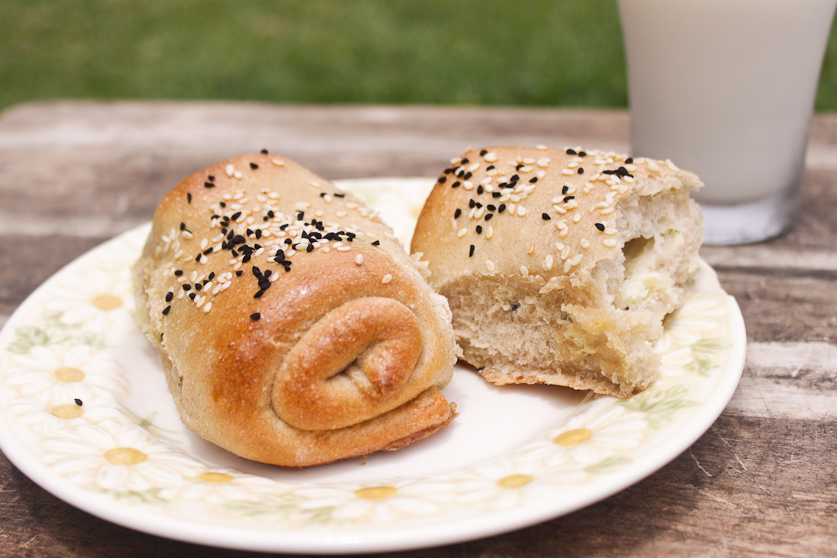 Buckwheat Rolls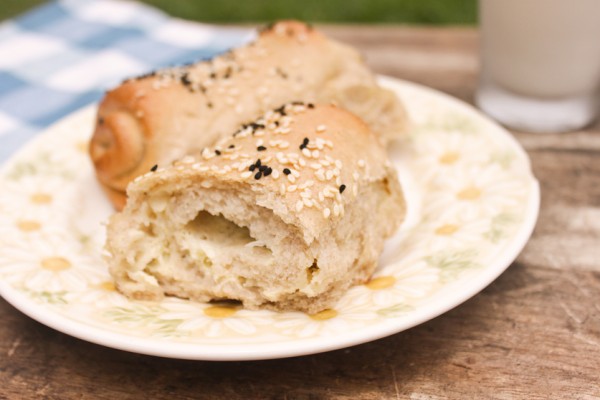 Buckwheat flour adds a rustic, nutty flavor to these rolls. They could be made smaller and filled with various ingredients.
Ingredients
Dough:
1 cup buckwheat flour
5 cups all-purpose flour
1 envelope instant yeast
1 tsp granulated sugar
1 tsp baking powder
1½ tsp coarse salt
6 Tbsp very soft butter
2 Tbsp olive oil
1 ½ cups warm water (110F)
Filling:
1 cup cottage cheese (or crumbled feta)
2 eggs, beaten
¼ cup sour cream
½ tsp salt
Topping:
1 egg, beaten
sesame seeds, nigella seeds, caraway seeds (optional)
Instructions
Place both flours in a large bowl.
Add dry yeast, sugar, baking powder, and salt and mix thoroughly.
Make a well in the middle and add butter and oil.
Mix a little and start adding water, little by little (you might not need all of it).
The dough should be soft, but not sticky.
Form the dough into a ball and let it rest for 1 hour at room temperature, covered with plastic wrap.
Mix cheese, eggs, sour cream, and salt.
Divide the dough into 12 equal pieces and roll them into balls.
Flatten each ball into an oval approximately 8x5 inches.
Place a few small heaps of cheese mixture in the middle, fold the longer sides over it and start rolling from one short side.
Place the roll seam-side down on a cookie sheet.
Continue until all the balls are shaped, filled and rolled.
Brush with the beaten egg and sprinkle with seeds, as desired.
Preheat the oven to 350F.
Let the rolls rest while the oven is heating.
Bake for 30-40 minutes, depending on your oven, until golden brown.
Remove the cookie sheet from the oven and allow the rolls to cool slightly before placing them to a baker's rack to cool completely.