Breakfast for supper is one of our favorite meals. These delicious pancakes are made with a mixture of freshly ground buckwheat flour and freshly ground oat flour. You could also use white whole wheat as a delicious variation on the standard buckwheat pancake recipe.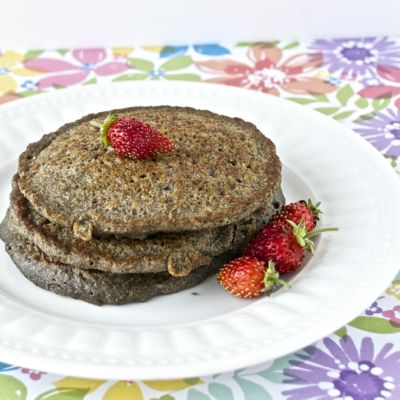 While many people believe that buckwheat is grain, it is actually a fruit seed in the family related to rhubarb. That makes buckwheat a perfect substitute for grains and it is also gluten free. If you'd like to make these pancakes gluten free, simply use a gluten free oat for your oat flour and then you'll have a fantastic gluten free pancake to serve up to those who are gluten intolerant. But don't worry, you'll be wanting to eat these whether you're gluten free or not. These buckwheat pancakes are delicious served with a pat of butter, maple syrup or local honey and topped with fresh, in season berries such as strawberries, raspberries, blackberries or even sliced up peaches. Yum! We also enjoy serving ours with a lacto-fermented berry sauce for a nice dose of probiotics to encourage a healthy gut.
Easy Buckwheat Pancakes Recipe
1 cup buttermilk (or 1 tablespoon of lemon juice plus enough milk to equal 1 cup)
1 egg (preferably farm-fresh and raised on pasture)
3 tablespoons butter, melted
6 tablespoons freshly ground oat flour (or freshly ground white whole wheat)
6 tablespoons buckwheat flour
1 teaspoon sugar or honey
1/2 teaspoon salt
1 teaspoon baking soda
3 tablespoons butter for frying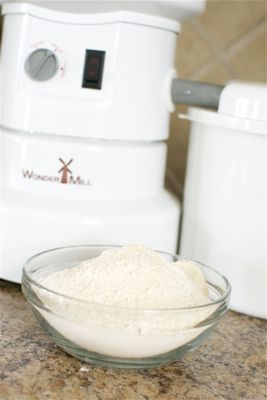 Whisk together the buttermilk, egg and melted butter in a medium sized bowl.
In a separate bowl stir together the flours, sugar, salt and baking soda until well mixed.
Stir the dry mixture into the wet mixture, just until incorporated. Let the mixture sit for a little while (up to an hour if desired) before cooking to yield a fluffier end product. Some reviews mentioned letting the batter stay in the refrigerator overnight, but I have not tried that.
Heat a skillet (I prefer cast iron) over medium heat and melt a tablespoon of butter in the skillet. Spoon some batter into the greased, preheated skillet and cook until bubbles form on top and the edges look set. Flip and continue to cook a few more minutes, until the pancake is cooked through.
Recipe adapted from allrecipes.com