Buckwheat used to be grown quite a bit as a food crop in the Northeast during the 18th and 19th centuries.  It grows really well in soil that is low in nutrients and needs very little water.  It is actually a seed and not a real grain so the resulting 'flour' you get from grinding cannot be used as 100% of the flour in your recipe.  Buckwheat will give your final baked product a slightly more crumbly texture if you use it for more than half of your total flour amount. When you are looking for buckwheat to grind you want to find 'groats'.  I found mine in a local health food store from Arrowhead Mills.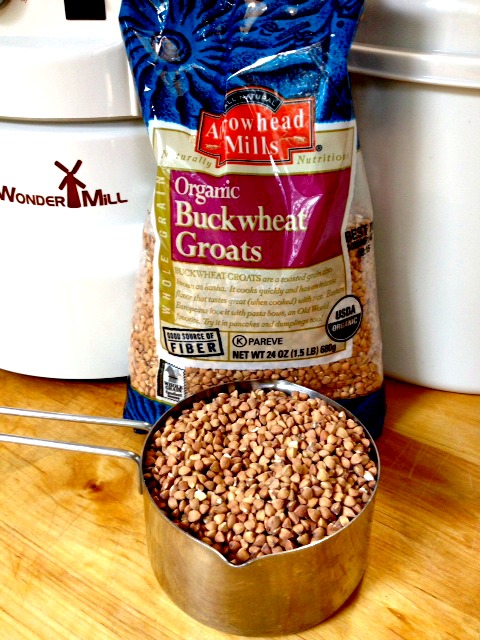 I never really stopped to think about flour having an aroma but the freshly ground buckwheat groats had a very nutty and earthy smell that was just heavenly. 1 cup of groats gave me about 1 1/3 cup of flour.  Buckwheat is a good source of fiber, magnesium, copper and manganese along with 13 other essential vitamins and minerals.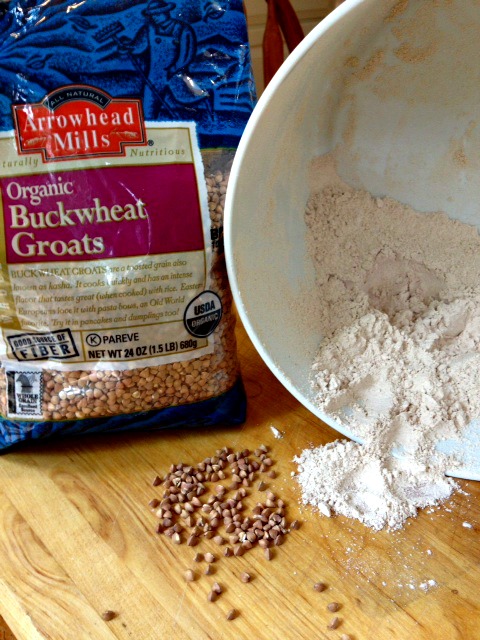 Buckwheat is gluten free so if you want to make these cookies gluten free try substituting millet flour, oat flour, or gluten free all purpose flour.  These cookies came out absolutely heavenly, with a slightly chewy texture and tons of spicy, molasses flavor!
Buckwheat Molasses Cookies
Ingredients:
1 ½ cups all purpose flour
1 cup buckwheat flour
1/2 tsp ground cloves
1/2 tsp powdered ginger
1 tsp ground cinnamon
2 tsp baking soda
1 stick (1/2 cup) butter
1 cup sugar, plus extra for rolling
1 egg
1/3 cup molasses
Directions:
Combine the flours, cloves, ginger, cinnamon and baking soda in a bowl and mix to combine.
Combine the butter, sugar, egg and molasses in a large bowl and beat gently until well combined.
Gradually add the flour mixture to the molasses mixture until evenly mixed. Cover and refrigerate for at least 4 hours.
Scoop 2 tablespoons of dough at a time and roll into balls approximately 1 ½ inches wide. Roll them in a small bowl of sugar and set onto a parchment paper lined baking sheets.
Bake at 350 degrees F for 10-12 minutes. Let cool.
Makes about 2 – 3 dozen cookies, depending on size.