I am really loving my Wondermill and the grains that I have been able to grind with it.  It is so quick and easy to do.. Within seconds I have enough flour to make something wonderful.
This recipe I adapted from Get Naked in the Kitchen by Briana Santoro.  The original recipe called for only brown rice flour but I didn't have quite brown rice so I also ground up some popcorn to use as corn flour and it worked wonderful.  This recipe is gluten free and full of some many different flavours and goodness.  I just used what I had in my cupboards and it turned out wonderfully.  I also didn't quite roll out my dough thin enough so they were more like a bread then a cracker but still good.. Or at least I thought so.
For this recipe I used brown rice and corn that I ground in the Wondermil.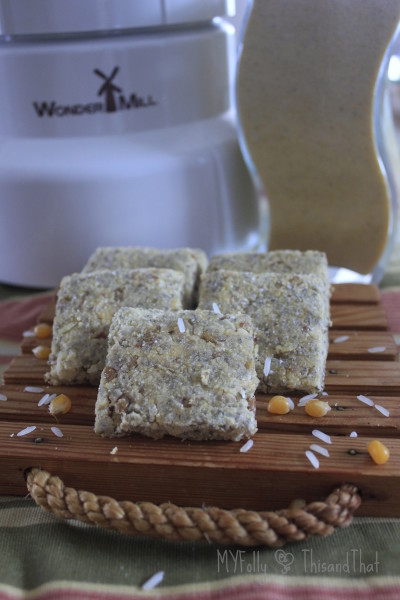 Brown Rice Crackers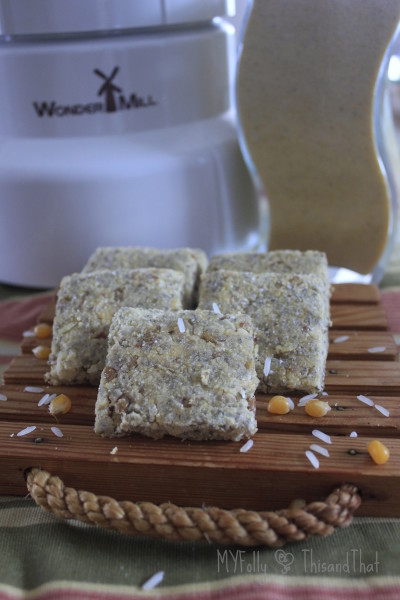 Author:
Marlys @ This and That
A wonderful flavourful gluten free cracker or bread
Ingredients
1 cup brown rice flour
½ cup corn flour
2 tbsp honey
½ tsp sea salt
½ cup sliced almonds
¼ cup chia seeds
⅓ cup sunflower seeds
¼ cup crushed pumpkin seeds
2 tbsp oil (grapeseed)
1 cup water
Honey/Water mixture
2 tbsp honey
1 tbsp water
Sea Salt (to taste)
Instructions
Preheat oven to 325 degrees F.
In medium bowl mix all ingredients except water.
Add water and stir dough, kneading it with your hands until well combined.
Place parchment paper on rimmed cookie sheet.
Place dough on parchment paper and using a second piece of parchment paper spread dough thinly over cookie sheet. The thinner you spread the dough, the crispier the crackers are.
Using a pizza cutter or knife score the dough into squares.
Bake crackers in 325 degree oven for 10-15 minutes.
Remove from oven and flip crackers over one at a time.
Place bake in oven and bake another 10 -15 minutes until desired crispness. You may need to bake longer then 15 minutes.
Just before crackers are done make honey/water mixture by mixing honey and water in small bowl.
Remove crackers from oven and brush mixture over them.
Sprinkle small amount of sea salt over crackers.
Cool and enjoy
Notes
I forgot to add oil when I was making my crackers and they tasted fine and stayed together.
I spread crackers about ¼ inch thick so were not as crispy as I thought they would be but tasted good this way.