We love to make bread in our bread machine and what better way to showcase freshly milled wheat than with a fresh loaf of bread.  We packed in some extra seeds for flavor and for the health benefit.  The best part about this is that you just toss everything into the machine and turn it on.  A few hours later, you are rewarded with a yummy, crusty loaf of bread!
Once you get that crusty loaf of bread, the sky's the limit as to what you can do with it.  Sandwiches are an obvious choice.  Even just serving with butter is delicious.  You might even be able to get away with making French toast!
To make a lovely little panzanella (or bread salad), bake some cubed bread in the oven with a little olive oil at about 350 for 5-10 minutes.  Chop up some tomatoes, cucumbers, bell peppers, and red onions; make a little red wine vinaigrette; and add in the croutons.  Serve right away.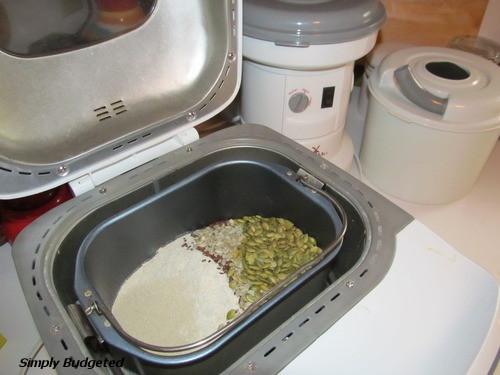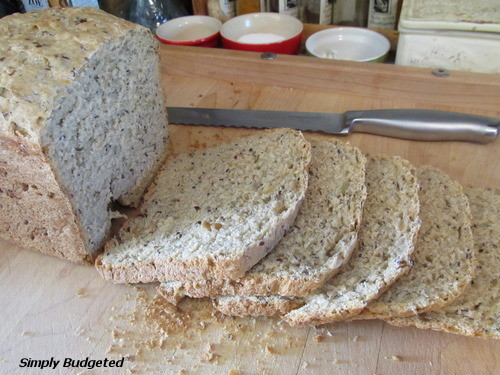 Seeded Whole Wheat Bread
Ingredients
12 oz. water
1 1/2 tsp salt
2 Tbsp vegetable oil
2 Tbsp dark corn syrup
2 cups bread flour
2 cups whole wheat flour
2 tsp. active dry yeast
1 cup mixed seeds (flax, pumpkin, sunflower, etc)
Directions
Place all ingredients into the bread pan in the order listed.  Use the Whole Wheat setting.  Once complete, remove from pan, cool, and enjoy!
We hope you enjoy this easy bread.  Leave us a comment and let us know what you think!  What all can you make with a bread recipe like this?