Blueberries. Just the sound of them make my mouth water. I will eat them just about any way that you give them to me. I came across the idea of making blueberry breakfast bars while on Pinterest one day and decided that they were a must.
After looking at several different recipes, I really couldn't find a single recipe that suited me. So I sorta fudged around 2 or 3 different recipes and came up with something pretty amazing. And yes, I just "said so myself" but after you try them you will agree!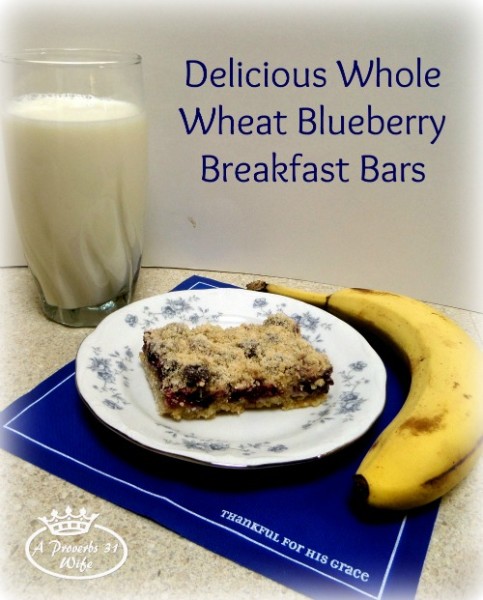 Whole Wheat Blueberry Breakfast Bars:
Bottom layer:
2 cups quick oats
3/4 cup fresh ground whole wheat flour
3/4 cup raw cane sugar
1/4 teas. baking soda
1/4 teas. salt
10 tbs. butter (very very soft, or melted)
1 teas. almond extract
Mix the dry ingredients together and then add the butter and almond extract. Mix until you have a crumbly dough. Press this into the bottom of a 9×13.
Middle layer:
3 1/2 cups of blueberries
1 teas almond extract
1/3 cup raw cane sugar
3 tbs whole wheat flour
1/2 teas. ground nutmeg
Toss the blueberries with the almond extract, then add the sugar, flour and nutmeg. Evenly sprinkle over the bottom layer. Optional: you could smoosh the blueberries to make more of a paste. This simply makes for a more even layer of fruit in your bars.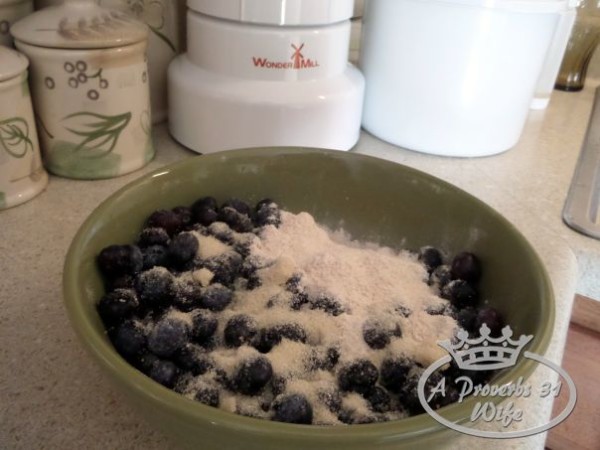 Top Layer:
1/2 whole wheat flour
1/4 raw cane sugar
1/4 very soft butter
Crumble these together and sprinkle over the top.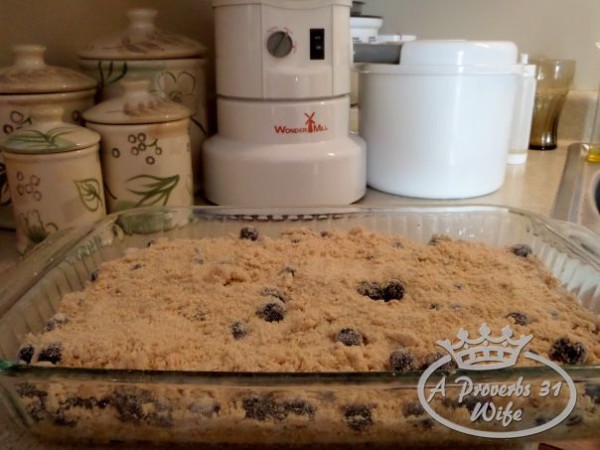 Bake at 425 for 15 minutes and then reduce the temp to 350 baking for another 25 minutes.
Because I am the impatient type I tried eating a bar straight out of the oven. Of course at that point the bars were still hot and totally crumbled. Nothing deterred, I pulled out the ice cream and dumped the crumbled bar over the top. Seriously better than hot fudge over ice cream, and a lot better for you!!!!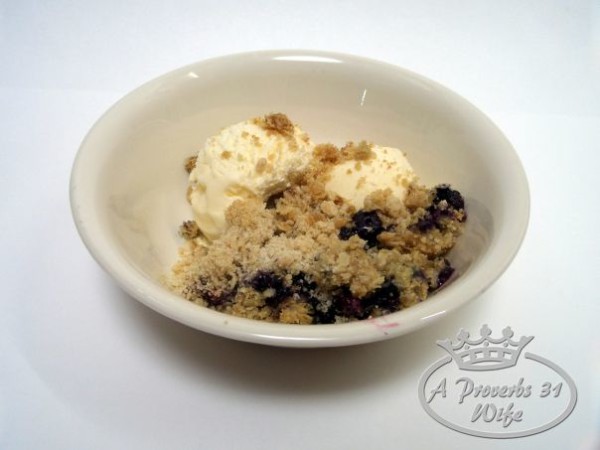 Definitely cool your bars in the fridge for a couple hours and then cut. They will stay as bars and make a wonderful snack, or addition to a healthy breakfast. I ate them with milk for 3 mornings straight!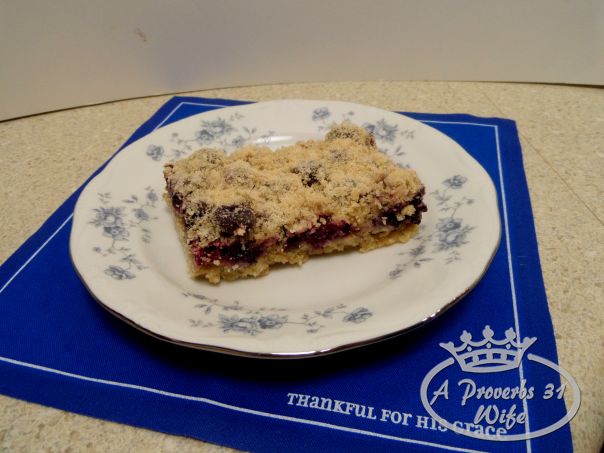 Do you have a favorite type of breakfast? Let us know in the comments!!!

Whole Wheat Blueberry Bars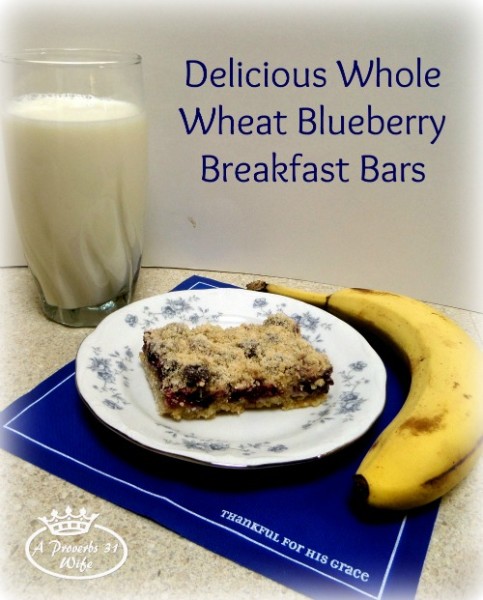 These Blueberry Breakfast Bars will wake you up with a smile. Made with simple ingredients and just the right amount of flavor, you can be sure of a healthy and filling breakfast.
Ingredients
Bottom Layer
2 Cups Quick Oats
¾ Cup Whole Wheat Flour (fresh ground for great taste)
¾ Cup Raw Cane Sugar
¼ teas. Baking Soda
¼ teas. Salt
10 Tbs. Butter
1 teas. Almond Extract

Middle Layer
3½ Cups of Fresh or Frozen Blueberries
1 teas. Almond Extract
⅓ Cup Raw Cane Sugar
3 Tbs. Whole Wheat Flour
½ teas. Ground Nutmeg

Top Layer
½ Cup Whole Wheat Flour
¼ Raw Cane Sugar
¼ Butter Softened
Instructions
For the bottom layer: Combine oats, flour, sugar, baking soda and salt. Mix well. Then, melt your butter, add the almond extract to melted butter and pour into the oats/flour mix. Stir together until you have a slightly crumbly mixture.
Press bottom layer into a 9x13 pan. Set aside.
Middle layer: There are two ways you can do this. First option: sprinkle the almond extract over your blueberries while stirring them to insure even coverage. Mix sugar, flour and nutmeg together and stir in with the blueberries. Sprinkle/pour this over your bottom layer. Second option for middle layer. Instead of leaving blueberries whole, gently smoosh them together with your dry ingredients. This just makes for a more even texture in the fruit part of your bars.
Top layer: mix butter, sugar and flour together until you have a well blended crumbly mixture. Evenly sprinkle this on top.
Bake 425 for 15 minutes, then reduce heat and bake at 350 for 25 minutes.
Serve warm and crumbly over ice cream, or refrigerate and cut into bars for a yummy breakfast or snack.