Over the years I have made one of my favorite breads I found in a cookbook all the ladies in the church we fellowship at compiled, including a few of my own recipes. Basque Sheepherders Bread is one of those breads that a friend of mine submitted. The exact same recipe can be found in many different cookbooks and on the web, plus some variations of it. This bread goes so well with a hot bowl of soup or stew on a cool Fall or cold Winter day. When you serve it you either just break off chunks or slice into wedges to dip into your soup or stew. It also makes for great sandwich bread.
The history behind Basque Sheepherders bread goes back in history. The area of Basque straddles the countries of Spain and France. Upon some of my research about the history I found the following quote from the 1976 issue of Sunset Magazine tucked in various links across the web.
"Tending their flocks in the remote Western rangelands, Basque sheepmen had to cook for themselves, and they had to make do with a minimum of portable cooking equipment. A Dutch oven became essential for cooking hearty soups and stews — and even for baking bread. They buried the pot in a pit full of hot embers."
The article also notes that many Basque Shepherds immigrated to the U.S. in the early 1900 timeline and worked as Shepherds in the mountain ranges of California, Montana, Utah and Idaho. They continued their tradition of making bread in cast iron pots buried in the ground with embers. Today the tradition continues in homes across the world recreating this wonderful bread in modern ovens.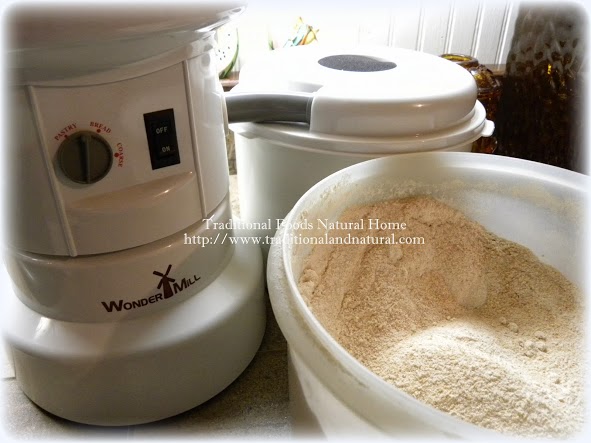 The Wonder Mill is all that it is proclaimed to be. I have been enjoying how efficient it is and the quality of the flour after it's finished milling. For this bread I chose to use Hard White Spring Wheat grains which I had never used before. I have been a long time user of Hard Red Spring Wheat, which is what I've used for this particular bread in the past. Little did I know that I was in for a pleasant surprise of how wonderful the flavor of white wheat would be once this loaf of bread was completed using the white spring. One slice, I became a convert to using Hard White Spring Wheat! Some variations of this bread call for Rye flour and some are leavened with a sourdough starter which I want to experiment with one day. The basic recipe from my church cookbook calls for all purpose flour.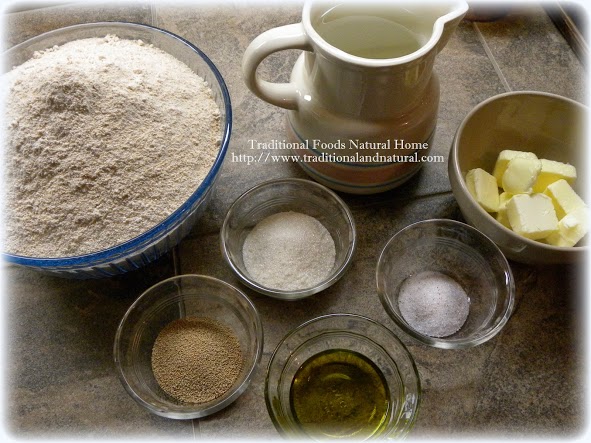 Basque Sheepherders Bread: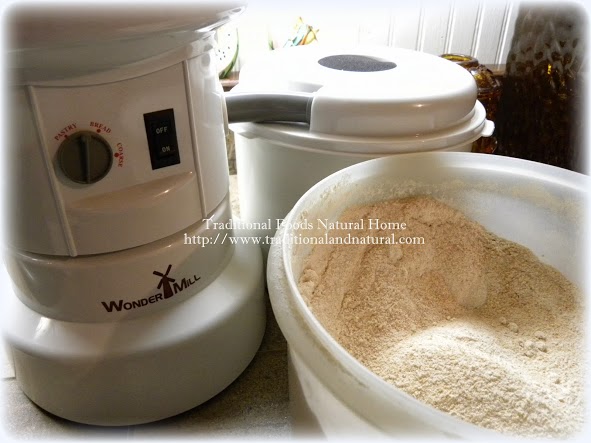 Author:
Pamela @ Traditional Foods Natural Home
Cuisine:
Basque Country / Spain - France
A delicious hearty bread to enjoy with a bowl of homemade soup or stew.
Ingredients
Basque Sheepherders Bread: makes one extra large loaf in a 10" cast iron Dutch Oven.
3 cups hot tap water
⅓ cup sugar (organic evaporated cane)
2 Tbsp. dry yeast
¼ lb. butter melted
2½ tsp. salt (sea salt or Redmond Real Salt)
9 - 9½ cups freshly ground whole wheat flour
Olive oil (for brushing pan)
Instructions
This bread can be either mixed and kneaded by hand or prepared in a mixer such as a KitchenAid Stand mixer with dough hook.
Grind fresh flour ahead of time or just prior to making.
Combine the hot water, sugar and butter letting the mix cool to 110 degrees (or by touch for adding yeast safely).
Add the yeast, stir and let proof (bubbly).
Now add the salt and half the flour beating in. Add the remaining flour to make a rather stiff dough yet pliable. Knead for 10 - 20 minutes by hand / less under a dough hook.
Cover with plastic wrap and let rise to double in a warm area for 1½ hours (more or less depending on room temp).
Punch down the dough by hand / in mixer just give the dough hook a few swirls.
Take the ball of dough and knead / shape into a nice round ball.
Grease the inside of your cast iron Dutch oven plus the inside of the cover with the olive oil.
Preheat your oven @375 degrees.
Place the dough into the center of the Dutch oven, place the cover and let rise again until the dough pushes the cover up ½" at most.
Place into the preheated oven and bake for 12 minutes with the cover still on. Remove cover and finish baking for another 30 - 35 minutes or golden brown and hollow tap test on bottom of loaf.
Once done remove from oven. Remove loaf from the dutch oven and cool on a rack.
This bread can also be made with store bought whole grain flours or bread flours. Our personal preference is freshly ground flours at home to ensure the highest quality of nutrients and flavor.