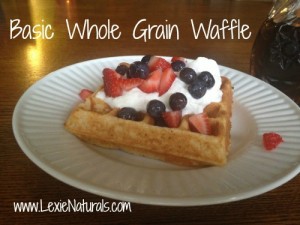 My family loves a good waffle!  We eat them for breakfast, lunch, and dinner.  Our favorite thing to do with a waffle is load it up with homemade whipped cream and fresh fruit.  Who even needs syrup?!  Well, ok, I still like the syrup.
When I got my WonderMill I was honestly concerned that my waffle recipe would not turn out right.  The first time I made them I didn't change a thing about the recipe (except milling my own wheat, of course) and they came out perfect!  These waffles are light, fluffy, and crisp on the outside.  They are very filling and make everyone at the table happy.
I first started using Alton Brown's Basic Waffle recipe and the following has sort of evolved from Mr. Brown's.  There are still things you can change about the recipe as long as you keep the basics the same.  You can use any flour or sweetener, and you can also substitute the butter for coconut oil, or another oil that you normally use.  I prefer butter or coconut oil for this recipe.
And now, here is what you really want!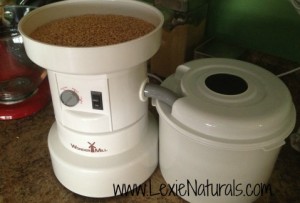 Basic Whole Grain Waffle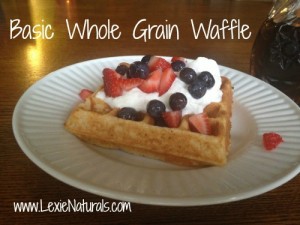 Author:
Lexie @ Lexie:Naturals
Ingredients
2½ cups freshly milled whole wheat flour (I usually use hard white wheat)
½ teaspoon aluminum free baking soda
1 teaspoon baking powder
1 teaspoon real salt
3 tablespoons sucanat (or other sweetener)
3 whole eggs, beaten
4 tablespoons unsalted butter, melted (or coconut oil)
2 cups buttermilk, room temperature (or 2 tablespoons white vinegar+enough milk to equal 2 cups)
1 teaspoon homemade vanilla
Olive Oil Spray or Butter, for waffle iron
fresh fruit
Instructions
In a medium bowl combine the freshly milled flour, baking soda, baking powder, salt, and sucanat.
In another bowl whisk together the eggs and melted butter then add the buttermilk and vanilla.
Add the wet ingredients to the dry ingredients and mix until moistened but not fully combined. Do not over-mix. You still want nice clumps in the batter.
Preheat waffle iron according to the manufacturer's directions.
While iron is heating, let waffle mixture rest for at least 5 minutes. While it is resting, more of the flour mixture will absorb the wet ingredients and make the perfect waffle.
Once waffle iron is heated, give the mixture one last stir (not too much though). Ladle recommended amount of the waffle mixture into your waffle iron, close the top and cook until the waffle is golden brown on both sides.
Top with whipped cream and fruit and serve immediately. You can also keep the waffle warm in the oven by heating it to 200 degrees F and placing the waffles directly on the rack.
Notes
My basic rule of thumb for cooking waffles is to cook them until most of the steam stops. I tend to cook mine longer because I use a Belgian waffle iron and my family likes them crisp on the outside.
*I have included affiliate links in this post.  This means if you purchase something through one of these links I will earn a small percentage at no extra cost to you.