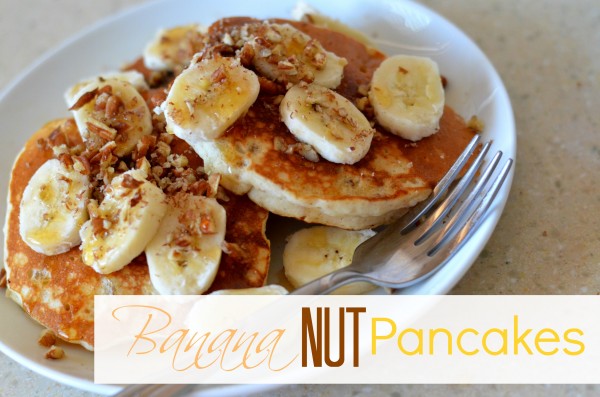 In my opinion everything is better with bananas and nuts. Seriously. This recipe leaves you with delicious fluffy oat pancakes filled with bananas, crushed pecans, and is topped with more bananas and crushed pecans. Drizzled with a little pure maple syrup and you have a pretty tasty and filling breakfast.
We love changing up the flavor of our pancakes on the weekends and making a large batch to store in the fridge throughout the week. That way we simply grab them out of the fridge, pop them in the toaster oven and toast them up a bit for a quick weekly meal.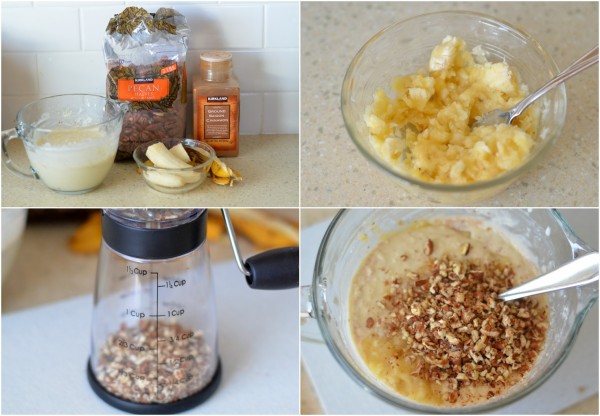 Banana Nut Pancakes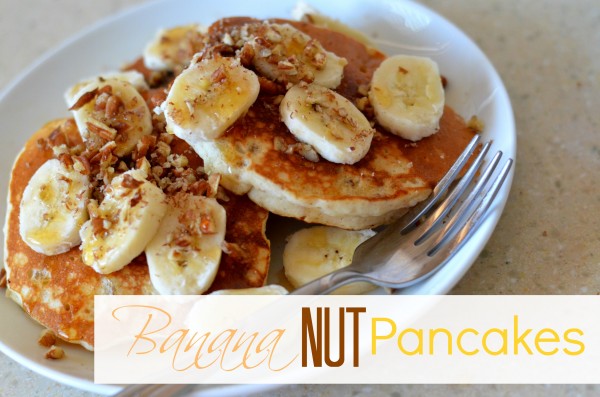 Ingredients
1 cup oat flour
2 tablespoons sugar
2 teaspoons baking powder
½ teaspoon salt
1 cup milk
2 tablespoons unsalted butter
1 large egg
1 tablespoon vegetable oil
1 banana, mashed
¼ cup chopped pecans, plus more for topping
Instructions
In a small bowl, whisk together flour, sugar, baking powder, and salt; set aside.
In a medium bowl, whisk together milk, butter and egg. Add dry ingredients to milk mixture and whisk until just combined.
Gently fold in mashed banana and nuts, careful not to over-mix. Let batter sit for 5 minutes.
Heat a large nonstick skillet or griddle over medium heat. Using a paper towel, spread some butter onto the skillet. Wipe off any excess with the other side of the towel.
Spoon ¼ cup of the mixture onto preheated skillet and let cook for 1-2 minutes, or until surface of pancakes have some bubbles and a few have burst.
Flip carefully with a thin spatula, and cook until browned on the underside, 1 to 2 minutes more.
Serve hot and enjoy! Top with a few sliced bananas, a sprinkle of nuts, and a drizzle of maple syrup to enjoy more banana nut goodness!