Cinnamon raisin bread using hard white wheat, freshly-ground in my Wonder Mill, is a family favorite for all seasons. Mildly sweet with the rich, earthy taste of organic cinnamon and plump raisins, this bread is excellent toasted with butter, spread with nut butter and jam, made into rolls for a quick snack or for a new taste in French Toast.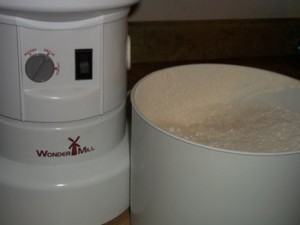 I sometimes substitute other dried fruits for the raisins, such as dried cranberries, blueberries, diced apricots, mango or anything your heart desires! Just be sure to adjust the extract to match, for example raisins and cranberries I use homemade vanilla extract but with blueberries, apricots and mango, I use almond extract.
Make extra and store the baked loaves in the freezer. Simply thaw at room temperature for a few hours or overnight.
I use my Award-Winning 100% Whole Wheat Bread recipe and add the fruit, spices and extract to the mix before adding additional flour.  The new recipe looks like this:

Award-Winning Cinnamon Raisin Bread or Rolls  
2 cups water (110 degrees)
1 Tablespoon SAF instant yeast
1 Tablespoon organic apple cider vinegar (optional)
2 teaspoons – 1 Tablespoon organic ground cinnamon (to taste)
2 teaspoons organic vanilla or other extracts
1 1/2 cups organic raisins or other dried fruit
5-6 cups whole wheat flour, freshly-ground, divided
1/4 cup vital wheat gluten
1/4 cup extra virgin olive oil
1/4 cup raw honey
1 teaspoon sea salt
Mill whole wheat berries in the WonderMill or Wonder Junior Deluxe. Place warm water, yeast, apple cider vinegar and 2 cups of flour in a large mixing bowl or the Kitchen Aid bowl. Stir to mix well, then cover the bowl and let the batter sponge for 30 minutes. Remove the cover and punch down the dough by hand, or turn machine on to "stir" to release the air. Add oil, honey, gluten and salt, cinnamon, extract, dried fruit and stir well to blend ingredients. Add 1 cup of flour, stir to mix in or turn mixer on to #2. Add more flour by 1/4-1/2 cupfuls until dough cleans the sides of the bowl and is no longer sticky. The flour amount is approximate; use only enough flour to cause the dough to pull away from the sides of the mixer or mixing bowl. Do not add more flour past that point. Knead on #2 for 6-8 minutes or turn out onto an oiled surface to hand knead until the dough is soft and supple.
Let dough rise in an oiled covered bowl for 30 minutes or until doubled. Turn machine on to punch dough down;  or press the dough with your hands to release air, then remove dough from bowl to oiled counter. Divide into two equal pieces. Form into loaves (check out my tutorial for Twisted Loaves) and place the shaped loaves into greased loaf pans. OR, you can divide the dough into 4 ounce balls and roll them smooth, or shape like crescents.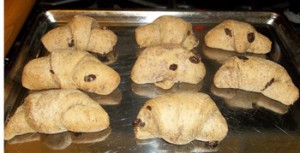 Preheat oven to 350 degrees F. Let shaped loaves rise covered in a warm place until dough reaches 1 1/2″ above the rim of the pans. Bake uncovered at 350 degrees for about 30-35 minutes or until completely done and golden brown. Remove bread from oven, place on cooling racks and cover with a clean towel to soften crust as it cools, or rub with butter. Slice when cooled.
For rolls place rolled balls onto oiled baking sheets, let rise covered until doubled and bake in a preheated 375 oven for 20 minutes or until done. Cover with a clean cloth to soften crust as it cools.  Enjoy!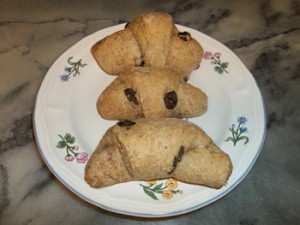 B'Teavon! (Bon Appetit!)