I thought these were good rolls back when I used "bread" flour, but with home milled Hard White Wheat they're much better, with a full rich flavor and tender crumb; substituting some Khorasan Wheat adds even more flavor. They're also very fast to make, 90 minutes or so from the start until they're done, including rising twice.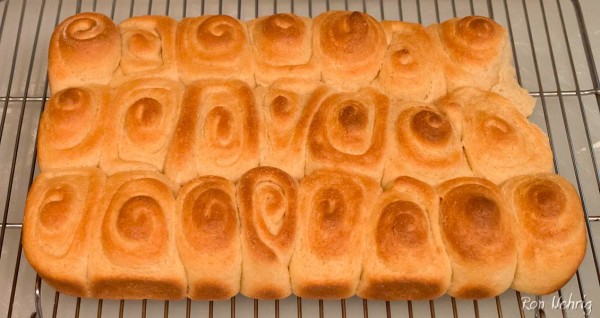 The Basic Recipe Ingredients
2 tsp
Yeast
0.5 C
121 g
Half & Half

(see Liquids note below)

1 C
236 g
water
3 Tb
38.3 g
Sugar (I use Raw)
1 tsp
6.5 g
Salt
4 Tb
56.8 g
Butter or part Olive Oil
4.5 C
531 g
Hard White Wheat
*See below for optional ingredients
---
The liquids: Total liquids is 1 1/2 C. This could be 1 Cup Milk and 1/2 Cup water. I don't keep milk around but do keep Half & Half so I used it in the proportions above.
Combine the Half & Half and all but 1/2 C water with the butter and heat to 120-130°. It helps if the butter melts or softens well. This warm liquid will help warm the dough.
Heat the remaining water to around 110°, add about 1/2 tsp of the sugar, and the yeast, mix until the yeast is stirred into the water and let sit until the yeast has grown into a 1/4-1/2″ layer — yes, most modern yeast can be used dry, but I still like giving it a head start.
Using a stand mixer with a dough hook, place 3 1/2 C flour, salt, the remaining sugar in the mixing bowl, add the milk/water/butter mixture, stir in, then add the yeast mixture and mix well. Add the remaining flour a few spoons at a time until the dough clings to the dough hook and cleans the sides of the bowl, then knead for a few minutes more.
Turn the dough out onto a lightly floured work surface. Knead by hand to get a feel for the dough and shape it into a ball. Place in oiled bowl with lid or plastic wrap to rise in warm (100° or so) place for 15-30 minutes, until doubled.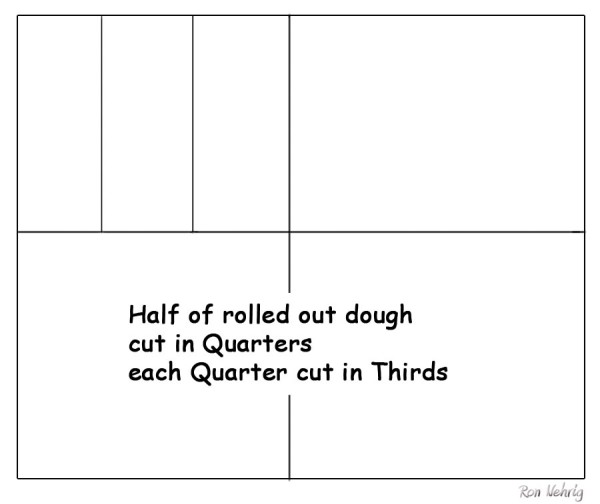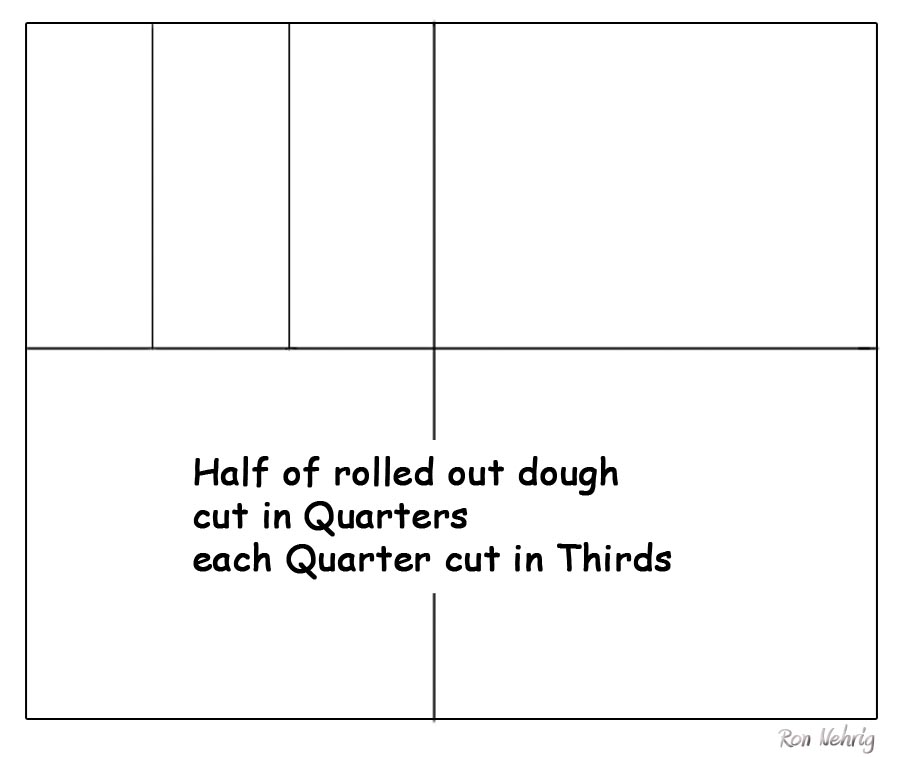 Turn the dough out onto a lightly floured board, pat down gently with the palms of your hands to de-gas it and work it into a rough rectangle; cut in half, and roll a piece into a rectangle with a rolling pin. Cut that into quarters and each quarter into three strips. Roll each strip up into a coil and place on end, four wide, in an oiled 9″ x 14″ baking pan. Repeat with the other half of the dough for a total of 24 rolls.
Cover and put in a warm place to rise, until doubled or the coils become tightly packed.
Bake at 425 for around 12 minutes or the tops are nicely browned.
Remove from pan and cool on wire rack or eat immediately.
Optional Ingredients
Substitute other wheat flour for some of the White Wheat, such as Khorasan, Spelt, or Red Wheat for a more complex flavor.
Multigrain Recipe
Khorasan Wheat adds a rich taste, Red Wheat will add extra character, while Oats and Barley both add delicate flavors and contribute to a smooth texture. A small amount of Vital Wheat Gluten can be used to help support the Oats and Barley since they have no gluten.
| | | |
| --- | --- | --- |
| 2 tsp | | Yeast |
| 0.5 C | 118 g | Half & Half |
| 1 C | 242 g | water |
| 0.25 C | 51 g | Butter |
| 2.75 C | 325 g | Hard White Wheat |
| 1 C | 120 g | Khorasan |
| 0.375 C | 31 g | Oats |
| 0.375 C | 36 g | Barley |
| 0.5 tsp | 1.4 g | Vital Wheat Gluten |
| 3 Tb | 38 g | Sugar |
| 1 tsp | 6.5  g | Salt |

Try adding other ingredients.
I made a batch with the following ingredients added, all of which were chopped pretty fine in a food processor. The amounts were random; as I was cutting them I just figured it was enough of each, especially for an experiment. I then weighed it for future reference.
110 g  of cured Ham
85 g  of Medium Cheddar Cheese
40 g  of Black Olives
I substituted half fruity Olive Oil for some of the butter. Some Bacon fat might be interesting.
It looked like a lot of stuff to add, and though the dough felt heavy, it rose okay, though a little slower than usual, perhaps because of the coolness of these ingredients, and the texture was fine also. The taste was more subtle than I expected, and everyone liked them, but those that tried to guess the ingredients didn't figure it out.