These brownies are just plain good. They don't have much flour in them, and that makes them chewy and rich. But I wanted to share the recipe to show you that you can make really, really good brownies using whole wheat flour.  And the great part about this recipe is that you can make them, mixing and all, in 40 minutes or less. We had them for breakfast this morning!
First, grind your wheat berries. This recipe only takes about 3/4 cup of berries. If you  grind too much flour for one recipe, simply cover and keep the flour for the next recipe. If you're going to keep it for a long time you might want to freeze it.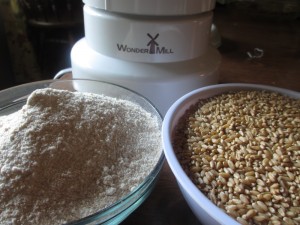 40 Minute Brownies, Start To Finish
3 ounces unsweetened chocolate, roughly chopped
1 stick unsalted butter, extra for pan
1 1/3 cups granulated sugar
2 large eggs
1 teaspoon vanilla extract
1/4 teaspoon able salt
2/3  sifted whole wheat flour – you don't have to sift your flour, but it will make the resulting brownies a little lighter i texture.
Heat oven to 350°F. Line an 8×8-inch square baking pan or use a round pan, with parchment paper, extended it beyond the pan about 2 inches. You could use foil. Butter the parchment or use cooking spray.
In a double boiler over simmering water, melt the butter then add the chocolate to melt. Stir in sugar, eggs, one at a time, vanilla and salt. Stir in flour. Scrape batter into prepared pan, spread until even. Bake for 25 to 30 minutes, or until a toothpick inserted into the center comes out clean.